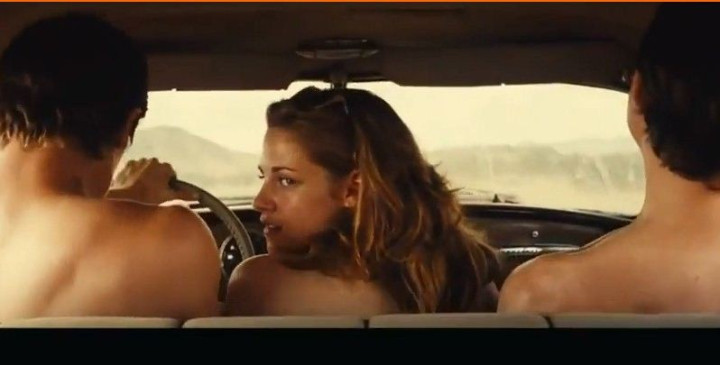 Kristen Stewart has dismissed concerns over her role in her new film On The Road, for which she was required to do more than one nude scene. The film is based on American author Jack Kerouac's novel of the same name. The book is about the years the author spent travelling across the United States, with his friend Neal Cassady, and the people they met in that time. Stewart plays Marylou, the 16 year old wife of Cassady.
"You can do no wrong with [director Walter Salles]," the actress told MTV, shortly after the film was screened at the Toronto International Film Festival, "He puts so much inside of you. In the four-week rehearsal process, it was okay to ask any question, to bring up any story, to really over-analyze everything and intellectualize everything."
"Once we got on set, it was so about just breathing and letting it happen. He put so much trust in us, so it was like, "Okay, so I have to take my clothes off?" It's so not a big [deal]," she added.
Incidentally, Stewart was first offered the role in 2007, when she was 17. However, given the nature of the role and its emotional demands, she admits it was probably a good thing her schedule meant she couldn't accept the role at the time.
"I should have definitely been older than 17 while playing this part, absolutely," the 22 year old actress said, "(My performance) would have been done very differently if I was younger. I wouldn't have played the part, obviously."
As for the role itself, Stewart insisted she had no qualms about her character.
"I love pushing. I love scaring myself," Stewart said," I've always wanted to get as close to an experience as I could. I'm usually self-conscious about running around town with my face hanging out. But I got to live more in those four weeks than I ever usually do in my life."
The film's cast also includes Amy Adams, Viggo Mortenson, Kirsten Dunst, Steve Buscemi, Terence Howard and Elisabeth Moss and is set for release on 22 December.
Stewart, 22, shot to fame for her role as Bella Swan, in the popular Twilight series of fantasy films. However, her more recent days in the media spotlight have been for other reasons. The actress was found cheating on long-time boyfriend Robert Pattinson, her co-star from the Twilight series. However, recent reports suggest the couple have made up and she has moved back in to live with Pattinson.