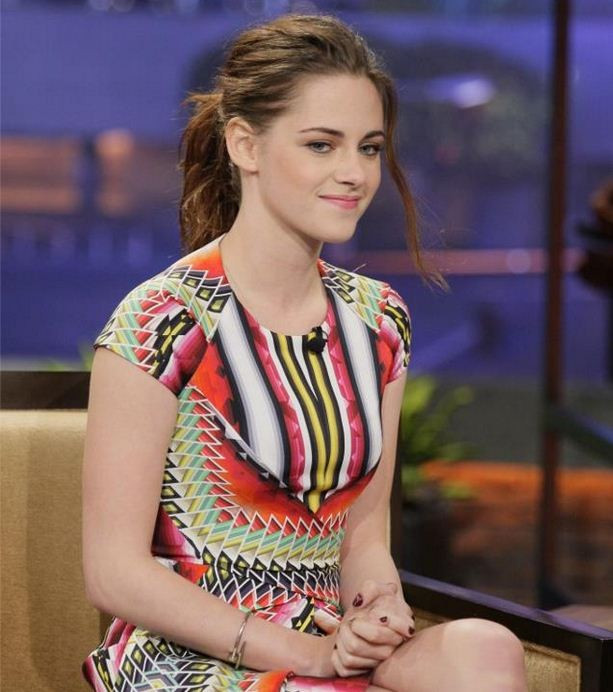 Kristen Stewart looked radiant and colourful during an appearance on The Tonight Show with Jay Leno, in California. The 22 year old actress wore a Peter Pilotto dress and Christian Louboutin shoes and spoke on the twist to the ending of her new film - Twilight Saga: Breaking Dawn - Part 2.
"It is so shocking to be honest. I couldn't be more inside of it. I couldn't be more in the loop, and every time I see it or even think about it I get like giddy. It freaks me out," she explained, adding, "If you read the book, we're not straying too far from. We're always very religiously faithful to details. It's easy to skim over, but you can find the root of our little twist."
The Twilight series is based on the best-selling novels of Stephenie Meyer and the final installment of the film - Twilight Saga: Breaking Dawn Part 2 - is set for worldwide release on 16 November.
Stewart, who was recently also released On The Road, a film version of Jack Kerouac's novel of the same name, admitted the role of Bella (her character, a vampire, in the Twilight series) was tough to play and also that she did injure herself on the sets.
On the personal front, the actress is back together with former boyfriend and Twilight co-star Robert Pattinson but has no immediate plans to start a family with the 26 year old British actor. In the final installment of the Twilight series, Stewart (Bella Swan) and Pattinson (Edward Cullen) play the parents of half human-half vampire child Renesmee (Mackenzie Foy).
"I think that it might be something that you're born with or not born with," Stewart explained, "Some people have really, really strong natural instincts and desires to be a mom. That was one of my favorite things about the story. It was one aspect of [Bella] that I was really excited to play."
It might be some time away but it appears both Stewart and Pattinson, who previously claimed he did not understand girls, may be ready to become parents for the first time.
"I actually quite like working with kids and I like working with animals, which everybody says you shouldn't do," the Cosmopolis star said, "Especially working with a baby is great. I would say, put a baby in every scene."