If you have necrophiliac, nymphomaniac, coprophiliac, sexomaniac or scopophiliac tendencies then 'Come and See'.
This is the title of the Chapman Brothers exhibition which deals with nihilist and morbid views about life. At the entrance of the exhibition, 36 life-size Ku Klux Klan mannequins wearing German Birkenstocks and colourful socks welcome you inside.
They are there to reassure you that we live in a wonderful world.
If you are an optimistic and happy individual this is not the show, for you as the art is anti-humanist, anti-Enlightenment and also pessimistic.
The Chapmans' thoughts are printed on the gallery walls, including "Exploding subs that register dimly on blind men's eyes, the beginning of the horror passed almost unnoticed."
"In the shriek of what followed in fact was forgotten cosmic hurricanes spray out into the void, shatter the spaceburst with immeasurable force of the imaginary upon quaking towers," says another.
Those words feel like passages from the Bible but are the Chapmans' own Testament, which is a remix from the religious text, the Exorcist and Punk.
If you want to bring your kids, forget it, unless you would like a night with nightmares.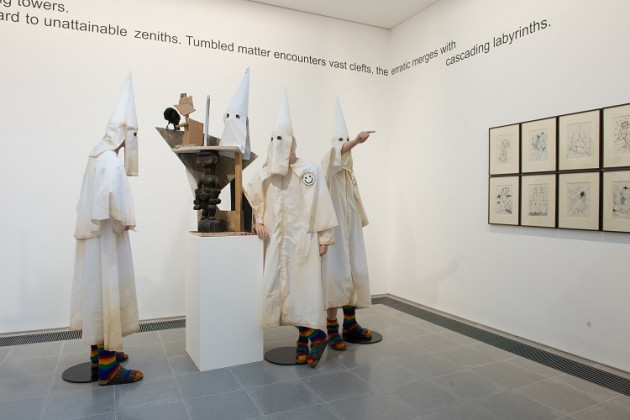 The Serpentine gallery spaces feel crammed with genitalia, faeces, invasive messages "that has been eating you, now eat your mind". Entering middle age, the Chapmans are no longer the 'enfants terrible' they once were and their jokes are now starting to wear off.
Criticism levelled at them is that they haven't developed and that their shock value currency is almost now predictable.
In an interview in the Financial Times last week, Jake Chapman defended himself by asking the question "Is it imperative for the artist to be novel?"
Working together since their graduation from the Royal College of Art in 1990, partly inspired by another artistic double act, Gilbert & George, who the artists worked for previously, they received critical acclaim in 1991 for their sculpture Disasters of War, a reinterpretation of Goya's etchings.
Their work was collected by Charles Saatchi and they became part of the YBA (Young British Artists) movement. In 2003, they were shortlisted for the Turner prize.
I admire the Chapmans' ambitious Disasters of War, which was created out of remodelled plastic figurines enacting scenes from Goya's Disasters of War etchings, Hell (1999), an immense tabletop tableau, peopled with over 30,000 remodelled, 2-inch high figures, many in Nazi uniform and performing egregious acts of cruelty.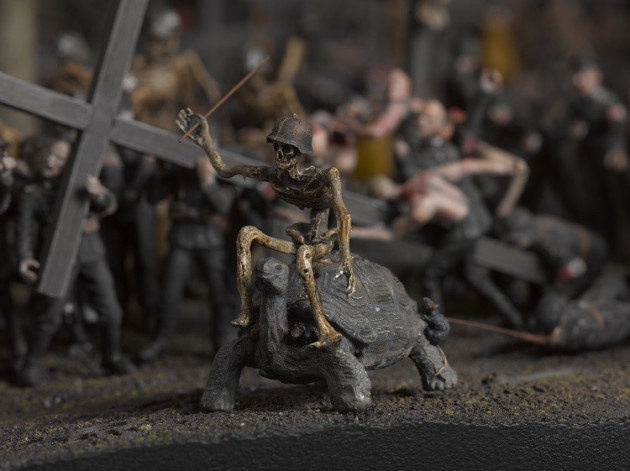 The work combined historical, religious and mythic narratives to present an apocalyptic snapshot of the twentieth-century.
Tragically this work was destroyed in the fine art and antiques shipping and storage company , Momart, fire in 2004 and the Chapmans rebuked by saying they would make another, more ambitious in scale and detail, the result of which was 'Fucking Hell' (2008).
The selection of their titles for their works does not lack humour One Day You will No Longer be Loved (that it should come to this) and Shitrospective.
If you are interested in purchasing one of these Shitrospectives make sure of its origins and provenance as the brothers tend to paint on top of old masters.
In 2011, a 17th- century painting by Brueghel sold at auction for £39,000 less than four years ago was re-sold for £750,000 having been altered by Jake and Dinos.
This year Christie's auctions in October, part of Charles Saatchi clearing up sale, fetched £151,875 for Tragic Anatomies, which is a large room-size installation. This is a modest price compared to the smaller size Stephen Hawking 's sculpture sold in 2010 for £241,250.
Are these prices an indication of their current currency?
They are masters at mixing high and low culture by creating Ronald McDonald as a tribal totem, re-appropriating Nietzsche, using Goya's Disasters, borrowing part of horror movie The Exorcist and mixing it up with Surrealist early 20th century artist Hans Bellmer and Punk.
This End of the World approach seems nowadays uninspiring and tiring.
According to them, "when the world ends there will be no air. That is why is important to pollute the air now. Before it is too late."
The last quote at the exit of the exhibition ends with "Rotten-earth".
After that, a walk through the Serpentine Park was necessary, it was my search for bringing life back from the death.
Virginia Damtsa is the co-founder of contemporary art gallery Riflemaker with Tot Taylor. Jake and Dinos Chapman's ''Come and See" exhibition is at the new Serpentine Sackler Gallery designed by Zaha Hadid.