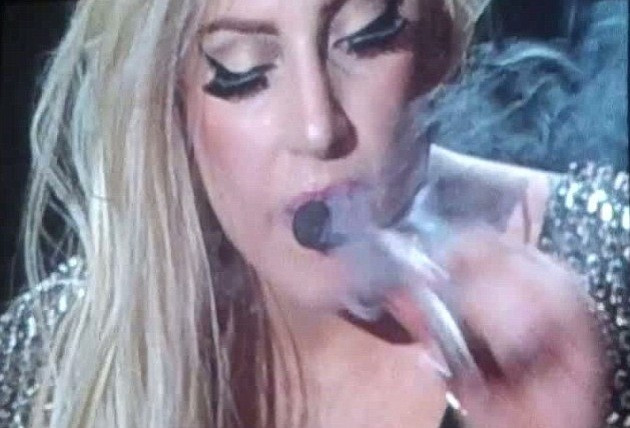 It is known for giving its users the munchies and it seems that even Lady Gaga is no exception to the downsides of smoking marijuana.
The Bad Romance hitmaker shocked fans when she lit and smoked the drug onstage during a concert in Amsterdam - while displaying a much fuller figure.
In footage from the gig, the controversial performer is seen lighting a joint and inhaling on it during a break in the show.
Before lighting the joint, thrown on stage by a fan, she tells the cheering audience "Is it real? Tell me it's real. Don't tease me"
The 26-year-old star, who previously admitted to being "a little bit part of the green club", later praised the "wondrous" drug for changing her life.
"I want you to know it has totally changed my life and I've really cut down on drinking," she told the crowd.
"It has been a totally spiritual experience for me with my music. It's like saying everybody needs to take a breath and it's going to be OK."
Marijuana's active ingredient, THC, which boosts the appetite of its users, could account for Gaga's expanding waistline.
The normally toned Gaga performed in various skimpy outfits which did little to conceal her obvious weight gain.

Fans got to see even more of the New York-born songstress when she took to the stage in a leather number that revealed her backside.
Smoking Cannabis has essentially been legalised in the Dutch city as its possession and purchase is tolerated in small amounts.