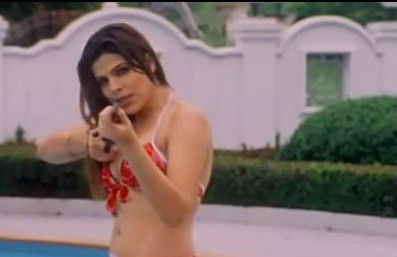 The Laila Khan murder mystery is getting curiouser and curiouser with the police unearthing human skeletons from her farm house at Igatpuri in the western Indian state of Maharashtra.
As many as six human skeletons along with some knives and rods have been dug out by the Mumbai police, the Times of India reported. DNA tests will be conducted to determine whose skeletons they are though they are believed to be of Bollywood actress Laila Khan and her family members.
Police told NDTV that they will take DNA samples of Nadir Patel to match with Laila and her elder sister Azmina. They hope to take the help of Forensic Science Laboratories(FSL) experts to recreate the bodies while the DNA of Laila's father Nadir Patel will be matched with the bodies found.
The prime accused in the case, Pervez Tak, had pointed out three places to the police near Laila's farm house in Igatpuri. When the places were dug to a depth of over five and a half feet, the skeletons were found.
"There are several bangles and ornaments on the bodies, so they appear to be of women. We have called experts from the Forensic Science Laboratory in Nashik to conduct DNA tests,'' Himanshu Roy, joint commissioner of police (crime) told TOI.
Laila Khan, her mother Celina, elder sister Hazmina, twin siblings Zara and Imran and another relative went missing from Mumbai in February 2011. Some speculated that she flew to Dubai while others thought she was dead. Light was shed on the case when Pervez Tak, Celina's third husband, was caught by the Jammu and Kashmir police. He revealed that Laila Khan and her family members were killed.
According to NDTV, Tak murdered Celina and the eyewitnesses (Celina's family) when she revealed that her property would be left for her second husband. Also, Tak was not happy with her closeness to her second husband Asif Sheikh.
The reasons for murder are still not clear. A press conference expected to be held by the police will hopefully throw more light on the deaths.