Dusan Lajovic will face Radek Stepanek in the fifth round of the 2013 Davis Cup final between Serbia and Czech Republic at the Belgrade Arena on Sunday.
Where to Watch Live
Play starts after the fourth round match between Novak Djokovic and Tomas Berdych, which is scheduled at 1pm GMT. Live coverage of the game will be on British Eurosport. Real-time internet updates and live steaming link is available on Davis Cup's official website.
Overview
The hosts are trailing the Davis Cup finals 2-1 after the Czech Republic duo of Radek Stepanek and Berdych registered a straight set victory over Serbia's Ilija Bozoljac and Nenad Zimonjic in the double's fixture in Belgrade on Saturday. The Serbians lost 2-6 4-6 6-7 with the final set being decided on a tiebreaker.
Lajovic lost the second round, his first game to Berdych in straight sets on Friday while his Sunday's opponent suffered defeat at the hands of world No 2 in the first game of the Davis Cup finals.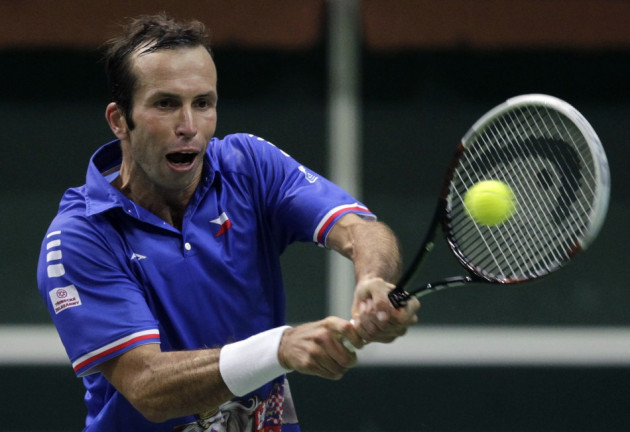 The fourth round tie between Djokovic and Berdych is a crucial game for Serbia as the defeat for Djokovic would see Czech Republic win the competition for the second year in a row.
However, a win for the world No 2 against Berdych would see the scores level as the winners would be decided from the final round between Lajovic and Stepanek. A win for Djokovic and Lajovic will see Serbia win the Davis Cup in front of their home fans on Sunday.
What They Say
Bogdan Obradovic: "This is the Davis Cup. This is great for the competition, having those two great players on the final day. It's going to be a very exciting day. I'm just waiting for tomorrow and tonight I'll make the decision about who is going to play in the fifth match, the deciding match.
Radek Stepanek: I have full belief in Tomas that he can perform great tomorrow. He has a shot. Novak will be under pressure [knowing] that he has to make the point. If it comes to 2-all, I'm ready. I always have been and I always will be. There's nothing more exciting than to play at 2-all. If it happens I'll be ready but we have to wait for that."