Bradley Wiggins has said he is not surprised that Lance Armstrong has been labelled a cheat by the US Anti-Doping Agency (USADA), and that the case against the seven-time champion is "overwhelming".
Wiggins, who won this year's Tour, added that he is frustrated by the stream of drug revelations which continue to blight his sport.
"I'm certainly not surprised by it... I had a good idea of what was going on," he said of the accusations against Armstrong, which are backed up by failed drug tests, bank statements and witness statements from former team members.
"It is what it is. It stacks up pretty highly really, it's pretty damning. There's a lot of it and I think the evidence is now overwhelming.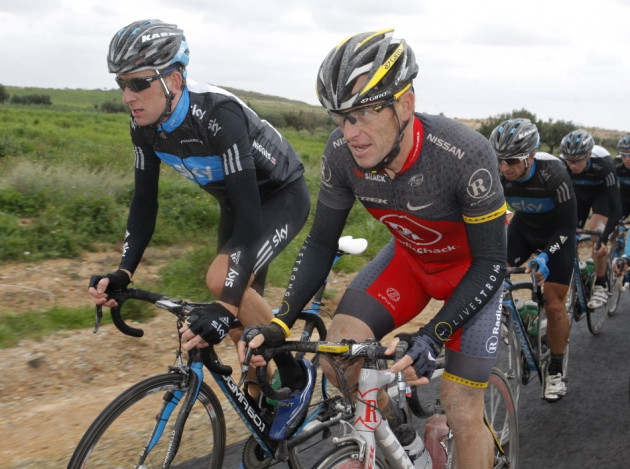 "My main concern is now I'm standing here as the winner of the Tour de France having to now pick to the pieces for other people's misdemeanours.
"For me it's about looking forward now and not looking back 10, 15 years ago."
Meanwhile, former Scottish racing cyclist Brian Smith says that a simple conversation with Armstrong over drugs, in which he said he would never use substances to take an unfair advantage, could have been the catalyst for his sacking from the Motorola team in 1994.
"It was the autumn of 1994 and I had joined Lance Armstrong on a training ride on the banks of Lake Como," he wrote for the Daily Mail.
"As we're riding side by side, the conversation turns to the subject of performance-enhancing drugs. He wants to know what I think. Did I think everyone was on them? Was the only way to beat them to join them? Would I take them?
"My dad was a Scottish international cyclist and before I turned pro he sat me down and made me promise that I would never fall into that world, that I would never take drugs.
"I told Lance the story and told him I could never let down my dad. I'd rather fail as a cyclist than do that. We rode on.
"Two weeks later, I was called to a meeting with Jim Ochowicz, who played a big part in Lance's career and at the time was Motorola team manager. Jim told me I would not be getting a new contract for the following season. I was out."