Los Angeles police investigators have released sketches of two male suspects in the cold-case murder of a teenage girl authorities believe is linked to the gruesome California killings by the Charles Manson cult.
The sketches are based on new information from a witness in Montreal, home of murder victim Reet Jurvetson.
Jurvetson's body was found in 1969 by a child on Mulholland Drive close to the Benedict Canyon home where four people were stabbed to death by members of the Manson "family."
One of the victims was film director Roman Polanski's wife, Sharon Tate, who was eight months pregnant and pleaded for her life and her baby's when she was brutally stabbed to death. The killers used the blood of their victims to write on the walls.
Manson and his followers eventually were convicted of killing nine people during a bloody rampage in the Los Angeles area in August 1969.
In a similarly brutal attack, Jurvetson was stabbed some 150 times. Police suspected her death was linked to the Manson cult killings, but have only recently gathered new evidence that could finally crack the case.
Manson prosecutor Vincent Bugliosi said in his 1974 book Helter Skelter that he believed Jane Doe No. 59 — as Jurvetson was then known — was killed because she had witnessed another suspected Manson family slaying, the death of John Phillip Haught.
Jurvetson's Canadian family didn't report her missing because they believed she wanted to be on her own, the Los Angeles Times reports. They received a heartbreaking postcard from Reet in Hollywood about her early idyllic life in California just two weeks before she was murdered: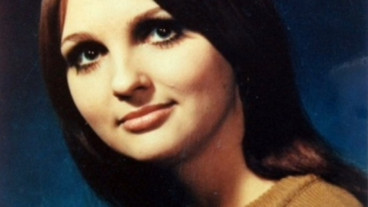 "Dear Mother and Father, The weather is nice and the people are kind. I have a nice little apartment. I go frequently to the beach. Please write to me. Hugs, Reet."
Recently, Jurvetson's sister, Anne, launched a blog in a bid to solve her sister's murder after LAPD detectives stepped up the investigation in 2003 to uncover DNA evidence and used a photo of the victim to finally identify her.
Reet went to California to see a man called John or Jean, who she first saw in Montreal. A witness there has given police a description of two men she met in Montreal before she left for California.
Investigators have long believed that Manson and his followers were responsible for many more deaths than they were convicted of.
In a new memoir by Beach Boy Mike Love, he recounts a shaken bandmate Dennis Wilson telling him that he watched Manson "take his M16 and blow this black cat in half" and stuff his body down a well on the property where Manson and his followers were living.
Detectives last year fruitlessly interviewed Manson at California's Corcoran State Prison, where he is serving nine concurrent life terms, in an attempt to uncover other information in other crimes.
"Talking to Charlie is like talking to a wall," Captain Billy Hayes, commander of the Robbery Homicide Division, told the Times.
Manson won't be eligible for parole until 2027. Most of his followers are still in prison or have died.
Follower Leslie van Houten was recently denied parole for the 20th time after Sharon Tate's sister Debra called the killer a "monster" at her parole hearing.