An explosive new book by Beach Boy Mike Love says late bandmate and cousin Dennis Wilson once confessed to him that he watched cult-killer Charles Manson fatally shoot a black man.
Wilson approached Love in a California recording studio in 1969 "visibly shaken" and said: "I just saw Charlie take his M16 and blow this black cat in half and stuff him down the well," Love recounts in his new memoir Good Vibrations, in a chapter obtained by People magazine.
Wilson and Manson, a singer-songwriter, had become friends during their time hanging out in the Los Angeles music scene. Wilson had spent some time at Spahn Ranch where Manson was setting up the commune that would soon become infamous.
The mysterious victim's death Wilson spoke of was apparently never reported or discovered.
Wilson was too frightened to report what he had seen to police, according to the book. But Love, now 79, believes what Wilson witnessed stuck with him and may have been partly responsible for the drug and alcohol abuse that led to his death in 1983 at the age of 39.
Members of the so-called Manson family were convicted of killing seven people in a bloody rampage over two nights. Film director Roman Polanski's wife, 26-year-old actress Sharon Tate, who was eight months pregnant at the time, was stabbed to death as she pleaded for her life.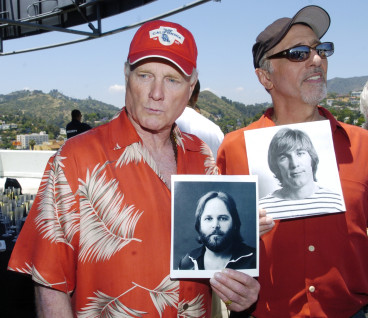 Four others visiting Tate in her Benedict Canyon home in southern California were also stabbed to death. The victims' blood was used to write words and messages on the wall, including: "Pig."
The next night involved the equally brutal murders of grocer Leno LaBianca and his wife, Rosemary.
Former Los Angeles County prosecutor Stephen Kay, now 81, who helped convict Manson of multiple murders, told People that he doesn't believe Love's story.
"I've prosecuted four Tate-LaBianca murder trials and attended 60 parole hearings" of Manson family members, and "I've never heard that story before," Kay told magazine. "If it was true, I would have heard it before."
The remains of a ranch hand Donald 'Shorty' Shea were found on a hillside near Spahn Ranch in 1977.
"I don't remember there actually being a well" there, said Kay. "If there was one, I doubt they would have thrown a body down there. They would have buried him like they did Shorty."
Earlier this year, LA detectives revealed they were investigating if the remains of Montreal teenager Reet Jurvetson found near the Tate-La Bianca murders had been part of the Manson killing spree.