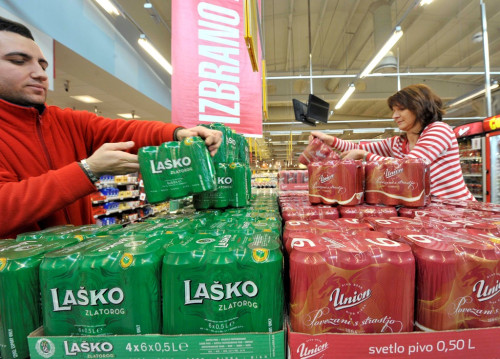 Slovenia is mulling a fire sale of beer monopoly Lasko, as part of a government plan to sell national assets and raise funds needed to reduce the nation's deficit and restructure the public sector.
The government proposes to exit 15 companies, including the largest banks, the local telecoms provider and national carrier Adria Airways.
Unemployment in the former Yugoslav republic of two million people, hovering at above 12%, could rise.
However, if the fund-raising drive goes as planned, Slovenia would avoid an international bailout.
Foreign Buyers Missing
Pursued by Reuters, Lasko's biggest shareholder, leading state-owned bank NLB with a 23% stake, refused to share plans.
However, local media reports said NLB would transfer its holding to a "bad bank" created by the government. The bad bank could sell those shares.
Hypo Bank, which holds a 7% stake, signalled it could abandon the brewer; while Nova KBM said it would sell its stake when the time was right.
Heineken, a potential suitor, refused to comment.
Meanwhile, Tuncay Ozilhan, chairman of Anadolu Group that owns Turkish Brewer Efes, said his firm was "not interested in buying [Lasko]."
Debt Burden
Lasko's owners, the eight state-owned banks that together control over 50% of the brewer, could be forced to exit their investment as they attempt to restructure their own businesses.
The troubled firm's market valuation of around €31m is overshadowed by debt nearly 10 times that amount.
Loss-making Lasko, which controls 80% of the Slovenian beer market, has seen its share price plummet from about €100 in 2007 to a little over €3 at present.
Saso Stanovnik, chief analyst at leading Slovenian brokerage Alta, told Reuters: "The most likely outcome is to find foreign buyers, possibly some European breweries, for parts of the Lasko group. With this, the story about 'national interest' in Lasko would have a very ironic ending, but probably a useful one for its further development."
Andrej Skorja, a trade union leader, said: "Foreign owners? That is effectively our future. I see no other way, and we're ready for it. The only issue is whether it will create problems for ... the employees."
The brewer refused to comment.
Mounting Woes
A supervisory board meeting recently accepted Lasko was struggling to meet its short-term liquidity requirements.
Earlier, Slovenia made public a €4.8bn shortfall in its mainly state-run banking system.
The government said it could plug the gap without foreign aid. However, to do so, Ljubljana would have to restructure the economy which is 50% controlled by the state.