Latte levy: Coffee cups could be banned by 2023
MPs call for 25p charge on takeaway coffee cups to be introduced to fight waste.
Britain throws away 500,000 coffee cups each day but only one in 400 cups are recycled.
British MPs have called for the introduction of a 25p charge on takeaway coffee cups, suggesting they could be banned within five years unless recycling improves.
The Environmental Audit Committee (EAC) suggested revenue from the so-called "Latte levy" should be used to boost Britain's recycling and reprocessing facilities.
According to a report released by EAC on Friday (5 January), the UK produces 30,000 tonnes of coffee cup waste each year and an eye-watering 500,000 cups are thrown away each day. However, only 0.25% of them are reprocessed.
Unlike other items, coffee cups cannot be recycled as they are made from cardboard with a tightly bonded polyethylene liner, which is difficult to remove and means they can not be processed through paper mills.
As a result, MPs have urged a total ban on coffee cups should be imposed by 2023, unless the recycling process is dramatically improved.
"The UK throws away 2.5 billion disposable coffee cups every year - that's enough to circle the planet five and a half times," said committee's chair, Mary Creagh MP.
"Almost none are recycled and half a million a day are littered. Coffee cup producers and distributors have not taken action to rectify this and government has sat on its hands. The UK's coffee shop market is expanding rapidly, so we need to kick start a revolution in recycling."
Starbucks and Costa have already introduced on-site recycling bins for cups, which are then directed to one of three specialist recycling facilities, and offer a 25p discount to customers using their own cup. Pret a Manger doubled that discount in a bid to help change habits.
However, MPs said that while the efforts were "well meaning", they were also "inconsistent and need targets" to be imposed by the government, highlighting the fact only two of the major coffee chains agreed to give evidence was troubling.
"There is no excuse for the ongoing reluctance from government and industry to address coffee cup waste. Disposable coffee cups are an avoidable waste problem and if the UK cannot be confident of their future sustainability, the government should ban them," said Creagh.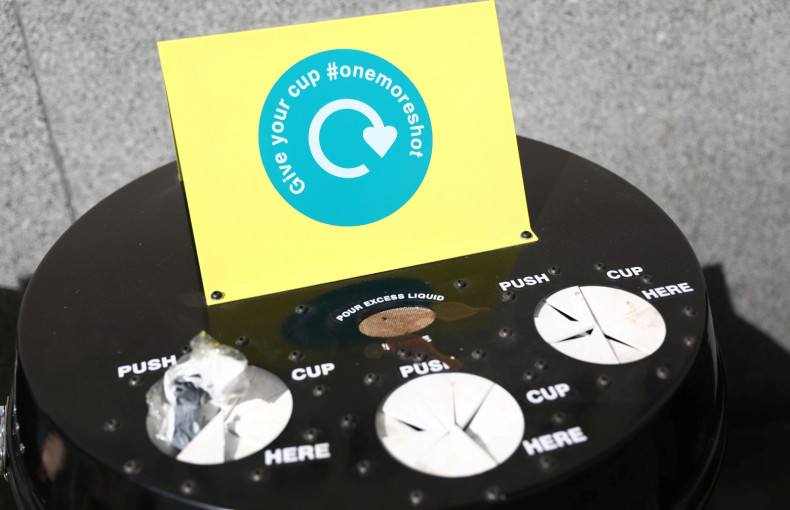 Unsurprisingly, the prospect of a complete ban on coffee cups was met with firm opposition by makers of paper cups, who have argued their products remained the most sustainable and environment friendly solution for takeaway drinks.
"The paper cups we manufacture in the UK are sustainably sourced, responsibly produced, recyclable and, through a number of facilities, are being recycled. We are committed to increasing recycling rates," said Mike Turner, of the Paper Cup Alliance.
"Taxing the morning coffee run will not address the issue of litter, but it will hurt consumers and impact already struggling High Streets."
However, MPs criticised coffee chains for confusing customers by perpetuating the notion coffee cups are recyclable.
"It is unacceptable that coffee sellers are perpetuating customer confusion though their use of recycling labels and emphasis on the recyclability of coffee cups, despite the shockingly low recycling rate," the report said. "Those without in-store recycling should print their cups with a not widely recyclable label."