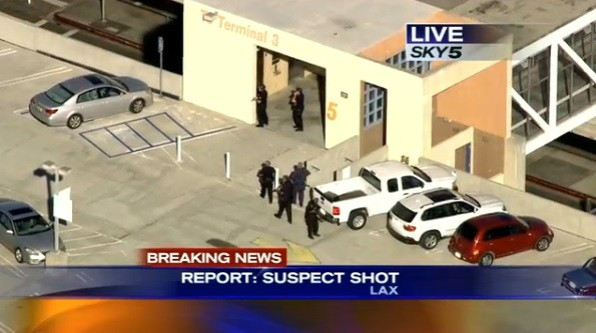 Authorities have evacuated a terminal at Los Angeles International Airport (LAX) after a shooting which is believed to have left at least four people, including a suspected gunman, injured.
The Los Angeles Police Department confirmed a suspect has been taken into custody over a major incident at the airport, during which several people were shot.
"The City of Los Angeles is on tactical alert due to a major incident at LAX," LAPD said.
The shooting happened at Terminal 3. ABC reported that a security guard was shot at a checkpoint by a gunman using an AR-15 rifle.
Multiple media reports said one of the wounded, an officer with the Transportation Security Administration, has died.
Reports that a second shooter was on the run could not be verified.
TV footage showed police and security officers swarming the airport while people rushed away from the scene. A law enforcement officer was seen receiving treatment by paramedics.
Passenger Brian Adamick, 43, who was about to board a flight when the alarm was raised, said he saw people running away from the terminal security area and then heard shots fired.
"While I was on the tarmac, I heard two gunshots from the same area where the people had been running and screaming," Adamick told the LA Times.
President Barack Obama has been briefed on the shooting, the White House said.
The airport said that all operations other than arriving flights had been temporarily suspended.
LAX tweeted:
Airport officials confirm police incident began at 9:30 a.m. @ Terminal 3 at LAX. More info to come.
— LAX Airport (@LAX_Official) November 1, 2013
All upper/departures level roadways are temporarily blocked by law enforcement. General public are being held back at law enforcement block — LAX Airport (@LAX_Official) November 1, 2013
More follows...