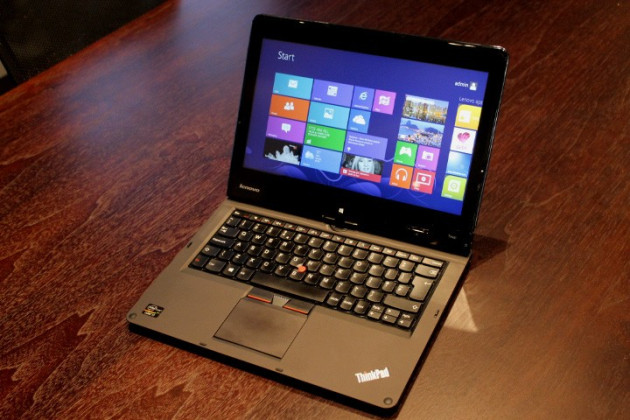 Key Features:
Core i7 1.9GHz processor with 8GB RAM

12.5in IPS screen (1366 x 768)

Windows 8 Pro

128GB SSD

313 x 236 x 20mm; 1.58kg

Price as Reviewed: £1,073
Lenovo ThinkPad Twist
Windows 8 has yet to catch the public's imagination. It's Janus-like combination of touch-centric start screen and traditional desktop makes it seem like a somewhat unfinished symphony which Microsoft is planning on updating on a yearly basis from this point on.
But whether or not Windows 8 has captured the public's imagination, it has freed laptop designers to explore exactly what a PC is and what combinations of form factors will work. Rather than putting all their efforts into one type of design, the approach so far has been more scattergun than laser focus.
We've seen straight-up laptops, touchscreen laptops, laptop/tablet hybrids, laptops with flip screen and even dual-screen laptops.
Lenovo has a number of products in these categories, but the latest one is the Lenovo ThinkPad Twist which as the name suggests combines a traditional laptop form factor with a screen which you can twist around and use as a tablet.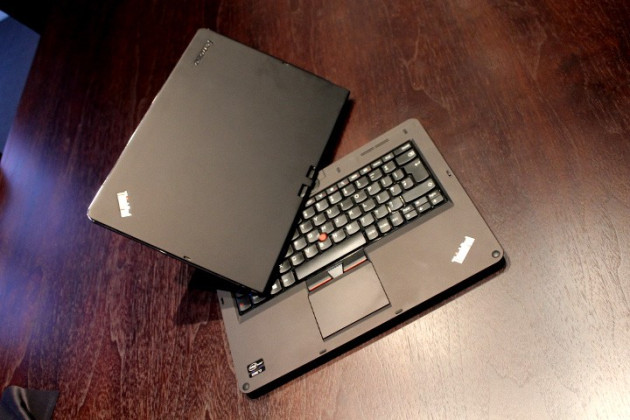 This however is nothing new for Lenovo, as it previously launched the X220 and X230 which had a similar twisting mechanism but was hamstrung by the fact that Windows 7 was not optimised for touch, meaning tablet usage was limited to watching films or viewing photos.
The X220 and X230 were also chunky, whereas the Twist has the Ultrabook stamp of approval from Intel, though at 1.58kg it is one of the heavier devices to be branded with the "thin-and-light" moniker.
Black and red
The laptop, like all of its ThinkPad line-up, is clad entirely in black with flashes of red here and there. The laptop's surfaces are primarily finished in soft-touch plastic which is both nice to the touch and durable.The only time Lenovo has strayed from using the soft-touch plastic is on the screen bezel where you get a combination of glossy black plastics with a rather unattractive chrome stip surrounding the tablet portion of the Twist.
At 20mm thick the laptop is perfectly portable but its footprint of 313mm x 236 is larger than many other laptops with screens of a similar size. This is down to the inclusion of the twisting mechanism, but does make the laptop seem bigger than the screen suggests it should be.
In fact the whole laptop is one of the least attractive ThinkPads - and Ultrabooks in general - we've seen in recent years, with a very noticeable step at the rear of the screen breaking the lines of the laptop when it is closed.
The twisting mechanism itself is nice and solid, letting you turn the screen in one direction, handily indicated by an arrow under the screen. The hinge never felt weak or as if it was going to break if you pushed too hard in the wrong direction.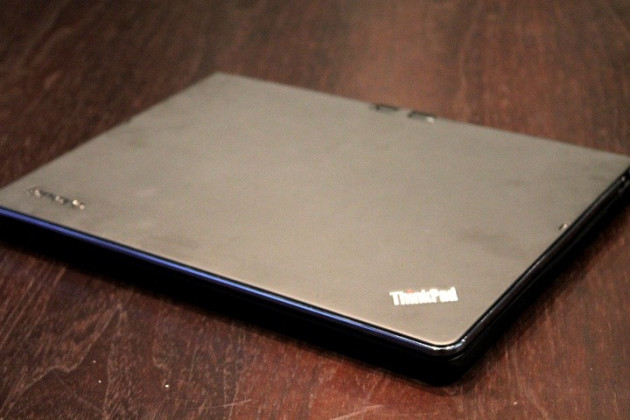 In tablet mode, the screen is very responsive, though unlike most of the competition these days, Lenovo has decided to only support five simultaneous input points instead of 10. This however is not a problem in my mind as I can't remember when I've needed 10 fingers touching the screen at once.
Tablet
As a tablet, the Twist is not going to compete with an iPad or Galaxy Note 10.1 in terms of portability but then again neither of those can provide the typing experience of the Twist. I found myself using the Twist in tablet mode for watching movies, and while the screen's resolution is nothing to write home about, it's is perfectly acceptable.
In tablet mode the now-obligatory Windows button sits below the screen, along with volume buttons, and a power and screen rotation lock buttons located on the right-hand-side of the screen.
Lenovo however is not just selling this as a laptop which has two modes. Oh no, the Twist apparently has four modes, just like the IdeaPad Yoga you no doubt have seen advertised on TV, in print and on billboards around the country.
As well as traditional laptop and tablet modes, you can use the Twist in stand mode - which is basically traditional laptop mode with the screen turned around - and Tent mode - which as you can see in the picture below is a mode you are never likely to use.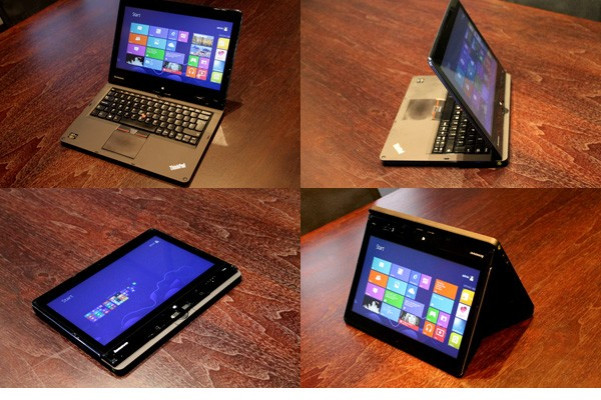 As I said the screen's resolution of 1366 x 768 is a typical laptop screen resolution but the use of an IPS panel at least significantly reduces the problems of contrast shift and gives you excellent viewing angles.
Colour reproduction is decent, backlighting is even except towards the bottom of the screen and contrast is very good, highlighting even subtle shades of black.
Typing, trackpoint and touchpad
The ThinkPad range, as well as being known for its durability and security credentials, is known as being among the best typing experiences on a laptop you are likely to get. And the Twist is no different, with the keyboard providing one of the best typing experience on a laptop I have ever had.
The keys are large, well spaced and are deep enough to make you feel as if you are typing on a proper keyboard. There is a noticeable click from the keys too, which is something you don't get with a lot of laptops these days.
There are however a couple of niggles. Lenovo continues to swap the Control key and Function key positions in comparison to pretty much every other keyboard layout, which takes some getting used to. However, as Ardjuna Seghers points out on TrustedReviews, if it gets too much for you, you can change this in the computer's BIOS settings.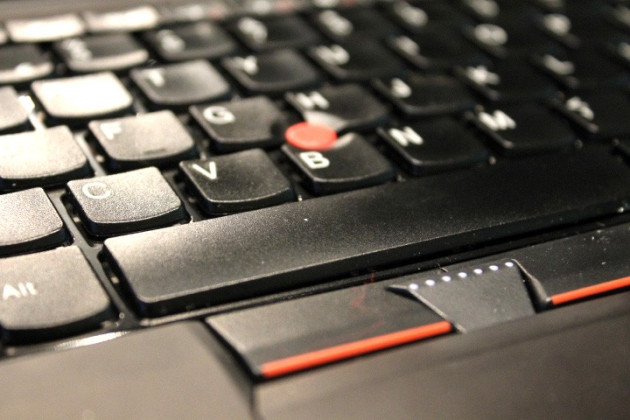 Also the navigation keys are too small, but this is not a complaint isolated to Lenovo and it seems like something we'll just have to get used to on laptop keyboards.
The trackpad on the Twist is smaller but works better than most comparable laptops. It is responsive - too much so in some instances - and has a buttonless design with the integrated right and left mouse buttons having a nice distinctive click with little or no dead zone.
As well as the traditional touchpad, you also get the TrackPoint, a red nub which sits in the middle of the keyboard that can be used in combination with a row of three buttons sitting along the top of the touchpad.
This is a feature which ThinkPad users will be well used to and with a bit of getting used to, can work really well and can in fact be faster than reverting to the touchpad. However for most casual users this is probably something they will ignore, but thankfully it has been designed so as not to get in the way of the traditional typing experience.
Hardware, Connectivity and Performance
The Lenovo ThinkPad Twist's headline grabbing feature is undoubtedly its twisting screen, but underneath this grandstanding, the latest ThinkPad is still very much a performance laptop.
The review unit I had came equipped with a Core i7 processor which runs at 1.9GHz normally but can be turbo-clocked up to 3.0GHz if you really want to. This is paired with 8GB of RAM which should be more than enough for most people.
As you can see the laptop performed reasonably in our NovaBench test, but not as well as I would have thought considering its top-end specs. This could be something to do with the graphics being handled by Intel's HD Graphics 4000 rather than discrete graphics.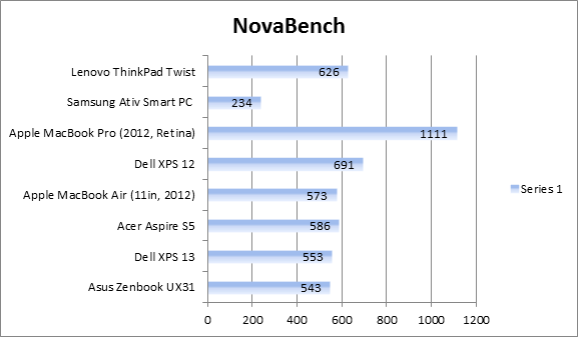 However, unless you are looking to do some high-end gaming or serious video editing, then the ThinkPad Twist should more than suffice.
In terms of connectivity, the Twist is one of the better Ultrabooks out there. Along with two USB 3.0 ports (one on either side) you also get a minDisplayPort, mini HDMI, an Ethernet port and a SD card slot.
In terms of wireless connectivity you get the usual pair of Wi-Fi N and Bluetooth, but also the option of 3G mobile broadband, which for those on the move could be a deciding factor as not many laptops offer this option.
In terms of starting up from cold and from sleep the ThinkPad Twist performs more than admirably, with a start-up from cold taking around ten seconds and sleep in just four seconds.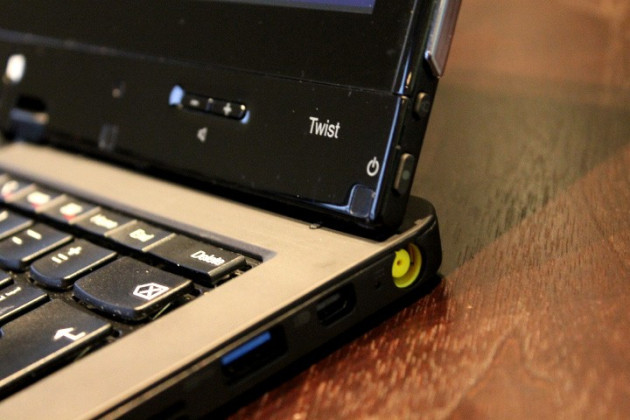 The battery performance is however a bit of an issue. I managed on average less than five hours of use away from a power supply which for a business-oriented laptop like this, is just not good enough.
Verdict
The Lenovo Twist is another interesting entry in the hybrid laptop market. As I said earlier it's nothing new but thanks to Windows 8, the tablet form factor actually makes some sense now.
However, thanks to the fact the non-touch friendly desktop remains underneath the Windows 8 sheen, the tablet experience still feels incomplete.
Starting at £870 for the base Core i5 model, going up to over £1,000 for the model I reviewed, the Lenovo ThinkPad Twist is not cheap. There are much cheaper Windows 8 touchscreen laptops available, though none which transform into a laptop like the Twist.
Add to that flexibility the superb typing experience, great performance and decent screen and the ThinkPad Twist is certainly worth considering for someone looking to combine a tablet and laptop in one.
Scores
Overall: 8/10
Design: 7/10
Performance: 8/10
Screen Quality: 9/10
Battery: 7/10
The Good
Superb typing experience

Flexility of tablet and laptop in one

Great build quality
The Bad
Expensive

Poor battery life