An unnamed Premier League side have made a bid for Schalke midfielder Lewis Holtby, according to the player's agent Markus Noack.
Holtby, whose Schalke side defeated Arsenal in the Champions League last week, is out of contract at the end of the season and has expressed a previous wish to return to his homeland.
And the English-born German midfielder's agent Noack says a side from England have been in contact with an interesting offer for the 22 year old.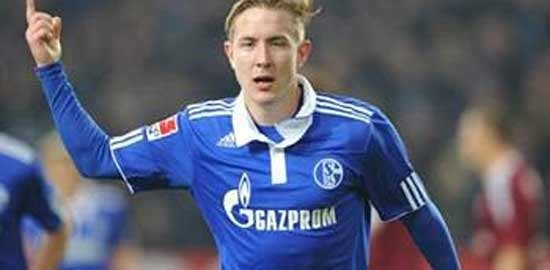 "We are talking with Schalke about a possible extension for another three years," Noack told calciomercato.com.
"Talks are going well at the moment but the situation has definitely changed in the last period because several offers from Spain and England came in.
"Lewis is very good at Schalke but above all there is an English club which has made a very interesting proposal.
"My client will have to decide whether to continue to grow in Germany or to try a new experience at the end of this season.
"Inter Milan? We have not received any proposals from Italy and he would prefer [to play in] the Premier League and La Liga."
Prior to last week's win over Arsenal, Holtby revealed his admiration for the club and that they would suit his footballing philosophy.
"For me it was always a dream to play in the Premier League and it was always a team like Arsenal that I would like to play for," Holtby said.
"My agent is there to handle the rumours. I want to put all my concentration on football. I'm a Schalke player and I cannot be fussed in my head with other clubs who want to sign me or whatever."
The twice-capped German international produced a solid display before making way for Tranquilo Barnetta at The Emirates Stadium in the Champions League.
Both Arsenal and Liverpool have been linked with his services of late.
Holtby isn't the only Schalke star to be out of contract at the end of the season, with Klass Jan Huntelaar, who netted the opening goal last week, likely to be available in the summer.