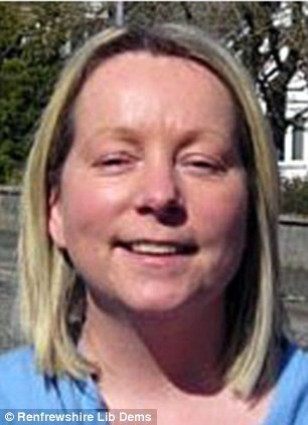 Former Lib Dem politician and mother of five Margaret McDonough was found with serious injuries at a Premier Inn in Greenock, Renfrewshire, and later died in hospital. Her daughter Nicola is fighting for her life.
Detectives are pursuing several lines of inquiry, which include trying to establish if the women inflicted the wounds on themselves or on each other. So police are treating the incident as "unexplained", and have not yet established if there were any suspicious circumstances.
A guest discovered 23-year-old Nicola McDonough slumped unconscious in a hallway, and her mother Margaret was found dead in a nearby room.
"We know that both women were in the Paisley area around 9am on Thursday 9 May," Detective Inspector David Wagstaff told Sky News.
"However, we are trying to establish their movements from that time until 7am, when they were found with serious injuries within a room in the hotel.
"We are unable at this time to establish whether there are any suspicious circumstances," he added.
"We have been unable as yet to speak to Margaret's daughter due to her ill health, and I really need anyone who can help us put together their last known movements to come forward due to the seriousness of the incident."
Both women, from Paisley, were rushed to Greenock's Inverclyde Royal Hospital but doctors were unable to save the former Lib Dem politician.
However, they managed to stabilise her daughter, but she is in a critical condition and too ill to be interviewed.
Mrs McDonough worked as a council foster carer and twice stood as a candidate for the Liberal Democrat party. She stood in last year's council elections for Johnstone North, Kilbarchan and Lochwinnoch in Renfrewshire, but registered only 2.5% of the vote.
Relatives have been informed, and a family member told police that they were in a state of shock and "utterly baffled" by the incident.
The mother and daughter had apparently booked a single night stay at the Premier Inn. They are believed to have arrived there on Thursday in a red Suzuki Swift, which was left in the hotel car park.
It was taken away for forensic examination.