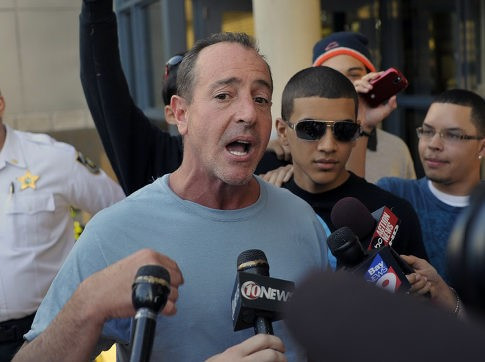 Lindsay Lohan's dad Michael is back in jail just hours after being released on bail for domestic violence charges.
According to reports, Michael Lohan fell from a third-floor balcony in his apartment building whilst trying to escape from police.
The 51-year-old, who has been accused of assaulting his former fiancé, was arrested for allegedly violating his parole by trying to contact his ex, Kate Major.
Mr Lohan had apparently harassed Miss Major with a series of phone calls following his arrest on Tuesday for domestic battery.
Police responded to a call from Miss Major, and whilst they were there Lohan made another phonecall to Miss Major. The police then went over to the Tahitian Inn in Tampa, where Lohan was reportedly staying.
When they arrived, Lohan: "leaped up from his balcony and grabbed ahold of the roof (about 30 feet) until he thought he was hanging over the top of the next balcony," according to a report by Tampa Police officer J. Ladd, who responded to the call.
After Lohan had let go and missed the balcony, he then came "crashing down on top of wooden high chairs that were laying on the ground."
Lohan then attempted to hide in some trees before he was arrested. The police report also said that: "His mouth was full of blood from where he bit his tongue. He also injured his foot."
Police said that Lohan would spend the night under observation in hospital before being booked into a jail again.
Lohan was arrested on Tuesday on domestic violence charges against Miss Major. Police said that Lohan grabbed her arms and pushed her down multiple times after a heavy argument.
When Lohan was released from jail yesterday, he said he "didn't do anything" and that the charges were Ms Major's way of making money.