Lionel Messi etched his name in footballing history once again as the Barcelona forward scored twice against Real Betis to take his goal tally to 86 in 2012 and surpass Gerd Muller's 40-year record for the most goals in a calendar year.
With a game to spare, Messi has overcome one of world football's greatest ever goalscorers, but in a fashion that the German marksman, not known for his balance nor his athleticism, could only have dreamt of.
If Muller's physique was typical of his era, then Messi is the standard bearer for the fitness of the modern day footballer. Until Wednesday evening's draw with Benfica, few will remember the last time Messi laid poleaxed on the turf; if not one of the world's best ever players then certainly, given his workload, one whose consistency can be attributed to a super human effort.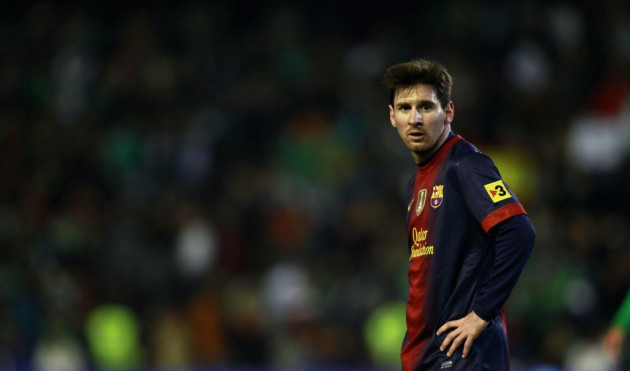 Suggestions that this latest feat cements Messi's status as one of the world's best is however misguided. To the contrary, if the record held that much weight then Muller would frequently be mentioned among the world's best; the reality is the former Bayern Munich striker lies on the peripheral. For the same reason that Pele's career total of 1281 goals is a footnote in his career, Messi needs to be remembered for so much more than a statistic.
The same analysts who believe Messi is now the heir to Pele and Diego Maradona's throne are the same people who assess the quality of players by virtue of their rating on the latest version of FIFA 12, and can list the occasions of having watched the Argentine on one hand.
The truth is Messi can break every goalscoring record available to him at Barcelona, and yet the breadth and manner of his success will count for more come the end of his career. For all his success at club level, Messi is yet to replicate that form for his country.
Aside from Pele's 26 major club honours, it's the lasting stamp he left on the history of the World Cup which is most poignant. A three time winner of the competition he might be, but it was his performance at the 1958 competition at just 17 years old which ranks among the greatest in professional sport.
You need only look at the winners of the Ballon d'Or during a World Cup year for an indication as to the significance of the competition in the context of a year and a career. Messi's exploits for his club have seen him pick up the last three awards, including once in a World Cup year in 2010.
But in order to have a lasting legacy outside the walls of the Nou Camp that outstrips commercial viability then it's the major international stage Messi must first conquer. Style and class he possesses in abundance, but breadth of achievement is the 25 year old's current flaw.