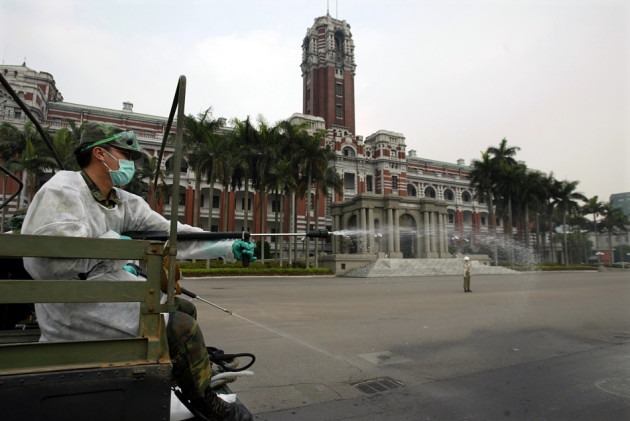 The world was "just lucky" that the Sars outbreak of 2003 did not become a global pandemic, a leading scientist claimed.
Dr W Ian Lipkin, director of the Centre for Infection and Immunity at Columbia University, said that "we will never know" how close the world came to a global killer.
Speaking at an event on global health hosted by the Royal Geographical Society in London, Lipkin, who was the senior scientific advisor for the film Contagion, was quizzed on the 2003 outbreak, which he saw first hand.
Event host and BBC medical correspondent Fergus Walsh asked Lipkin how close the world was to a virus capable of the devastation seen in the Steven Soderbergh film.
"The frank answer is we will never know," Lipkin replied. "The thing about disease protection is if you are successful, then nobody knows about it."
"We did not know what we were dealing with and so, until we had a means of tackling the illness, all we had was containment.
"I think we were just very, very lucky."
Sars (severe acute respiratory syndrome) broke out in Hong Kong between November 2002 and July 2003. There were 8,422 cases spread across 17 countries, which resulted in 916 deaths.
Lipkin, who worked on the Sars outbreak in Hong Kong, said: "In the early days, we had a very sketchy way of making a diagnosis. Therefore, if a person had a fever and had been in a position of risk, then the assumption was that they had Sars.
"The quarantine was carried out very well across the world and it was the best tactic possible to contain the infection until we could get a handle on it."
Lipkin developed a fever when he returned to the US and was immediately quarantined. He was later found to be free of the infection.
He explained that thousands of new infections are constantly discovered, adding that the emergence of another pandemic was "just a matter of time".
At the talk, titled Global Health in the 21st Century: Preventing Pandemics and Fighting Disease, Lipkin was joined by Dr Marie Charles, founder of Global Medic Force, and Professor Peter Piot, director of the London School of Hygiene and Tropical Medicine.
Piot explained that an ever-increasing world population coupled with an increase in life expectancy was seeing non-contagious chronic diseases, such as cancer and Alzheimer's, becoming the number one cause of mortality across the world.
Alongside ongoing research into immunology and vaccines, he said that a system of infection could be replicated with patterns of behaviour, claiming that government legislation, such as the smoking ban, can see positive results in health.
"I would argue that important solutions can be found in tobacco control, salt and alcohol reduction, diet and weight control and pollution reduction," he said. "We need delivery of innovation alongside innovation of delivery."
Charles claimed that the most important step to take towards improving global health was to ensure that "primary medical platforms are available across the world, so that people can access the care that they need".
Describing charities as a "self-licking lollipop", she claimed that world health cannot achieve serious progress until the underlying systems change.
"The way to look at it is if you had no electricity, no phone signal and no means of getting access to either, what is the point of your new iPad 3? It is the same system with health," she said.