Key points: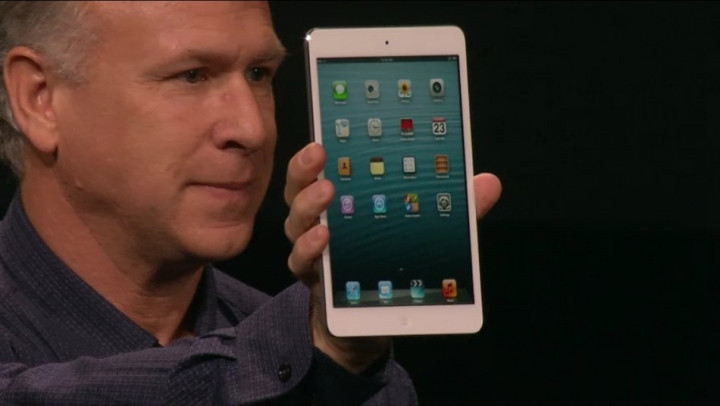 That's all folks, thanks for following and make sure to stay tuned to IBTimes for first impressions, reviews and opinions of all of Apple's announcements.
7:12pm: Tim wrapping up all Apple has done this year, signing off, says: "I'd personally like to thank all of the teams at Apple for dedicating their lives to making the best products on Earth."
7:10pm: Tim Cook back on stage:"We told you earlier this year that you would see incredible innovation, and I think we kept our promise."
7:09pm: Wi-Fi + 4G will cost you $459. Cellular version will begin shipping later, beginning first in US.
7:08pm: Pricing: iPad Mini Wi-Fi will cost $329 (16GB) coming November second with pre-orders starting this Friday.
7:06pm: Video for the iPad playing. Smart Cover for iPad mini Announced.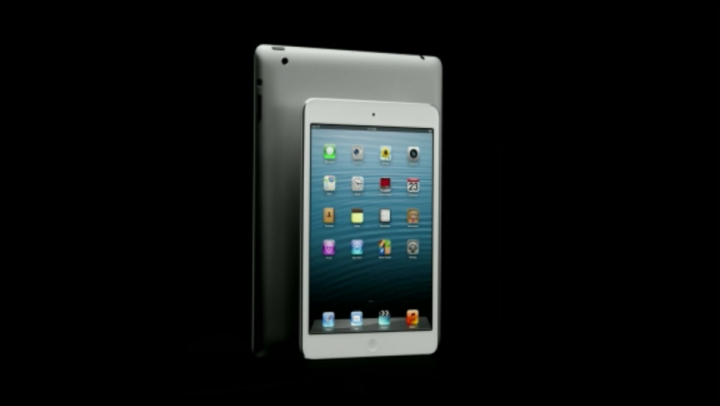 7:04pm: Last piece of the jigsaw is pricing. If Apple get this right it's game over for Google, Amazon, Samsung etc....
7:01pm: More about the hardware: A5 chip; LTE; 5 megapixel iSight camera; FaceTime HD camera; Lightning connector; 10-hour battery life; faster Wi-Fi.
7:00pm: Schiller showing off the same apps on Nexus and iPad mini and it's not good for Android.
6:58pm: Comparing iPad mini to Google Nexus 7. Sayss Nexus is heavier and thicker than iPad mini despite having smaller screen. iPad mini has third larger display area. Schiller also saying the Nexus has phone apps scaled up while Apple has iPad specific apps.
6:58pm: Screen size is 7.9in and has the same resolution of iPad 2 as had been rumoured. Allows the iPad mini to run iPad apps straight away withouth any tinkering from developers.
6:56pm: iPad is 308g, 7.2mm thin, comes in white with a silver rear and black with a slate grey rear.
6:54pm: "This isn't just a shrunken down iPad. There is nothing as amazing as this."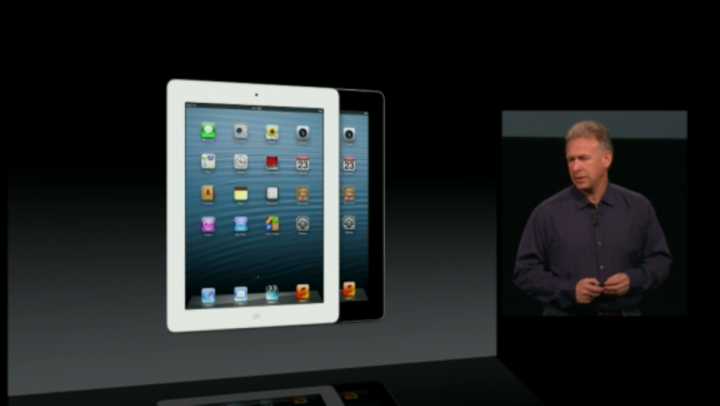 6:53pm: And there it is, the iPad mini. "It's incredibly thin and beautiful. Incredibly thin and light. Want to see one in person?"
6:52pm: Pricing saying the same.
6:49pm: So the updates 9.7in iPad has added 4G and it has been confirmed on the UK's new 4G network, from EE, which will launch on 30 October. New cables launched USB to Lightning,
6:48pm: Phil Schiller back on stage talking about 4th generation iPad. Features A6X chip, with twice performance of iPad, a 10-hour battery life, LTE, better camera, available in both black and white.
6:46pm: Talking about how businesses have embraced iPad too with 94 percent of Fortune 500 testing or deploying iPads. "But we know we are just getting started."
6:40pm: There are now 2,500 classrooms in the US with iBooks textbooks. New version of iBooks Author announced. Publishers can update their own books. Available today.
6:39pm: Cook talking about why people love the iPad. He's being VERY earnest. Now onto iPad and education.
6:38pm: Tim Cook back out and it's onto iPad. A few weeks ago Apple sold its 100 millionth iPad. That's in just 2.5 years.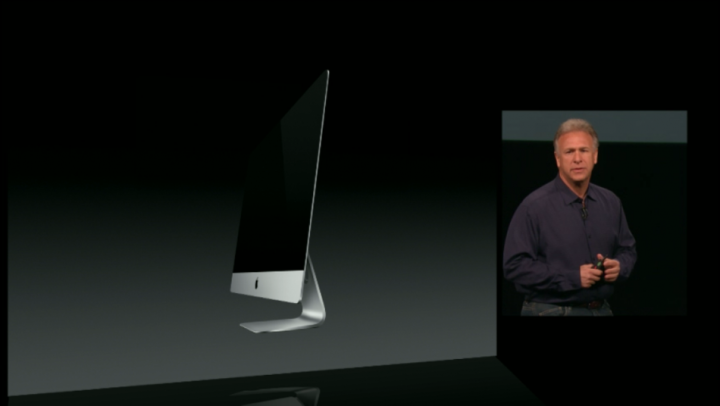 6:37pm: 21.5in iMac with quad-core 2.7GHZ quad-core i5; 8GB RAM; GeForce GTX 640M; 1TB Hard Drive available from $1,299. Shipping in November.
27in iMac with quad-core 2.9GHZ quad-core i5; 8GB RAM; GeForce GTX 660M; 1TB Hard Drive available from $1,799. Shipping in December.
6:36pm: Fusion Drive will figure out which piece of software you are using most and will move them from HDD to SSD.
6:35pm: Features something called Fusion Drive: a combination of 128GB SSD and 1TB or 3TB of HDD "fused by software." Fusion Drive is a third option, if you want HDD and SSD. "You order it and get a single drive." Built into OS X Mountain Lion so no setting up. OS sits completely on the Flash storage.
6:34pm: FaceTime HD camera; up to 3TB of storage; four USB 3.0 portsl Core i5 or i7 Ivy Bridge processors; SD card port; dual Thunderbolt ports; stereo sound system
6:32pm: New iMac comes in two sizes - 21.5in (1920x1080) and 27in (2560 x 1440). Panel is IPS technology for great viewing angles and promises over 300 nits of brightness.
"This is so thin we wanted to do something even more with it - the way this is welded is called friction stir welding."
6:31pm: "This is so thin we wanted to do something even more with it - the way this is welded is called friction stir welding."
6:30pm: New iMac announced. 80 percent thinner than previous generation. Wow, that looks pretty amazing.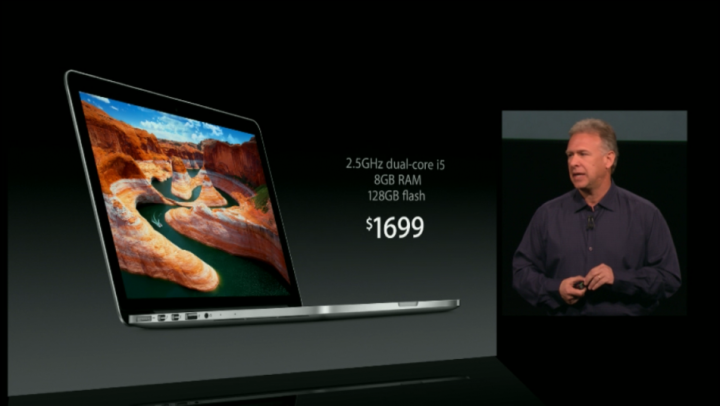 6:30pm: Schiller rushing through Mac mini update: two new configurations, with up to 4GB of RAM, twin 1TB HDD and 2.3GHz quad-core i7. Starting at $599 - Server configuration available too.
6:27pm: Next up with Mac mini. "The Mac mini is packed with great features. But the action on this product and the update is on the inside."
6:25pm: 13in MacBook Pro with 2.5GHz dual-core i5; 128GB of SSD storage starts at $1699.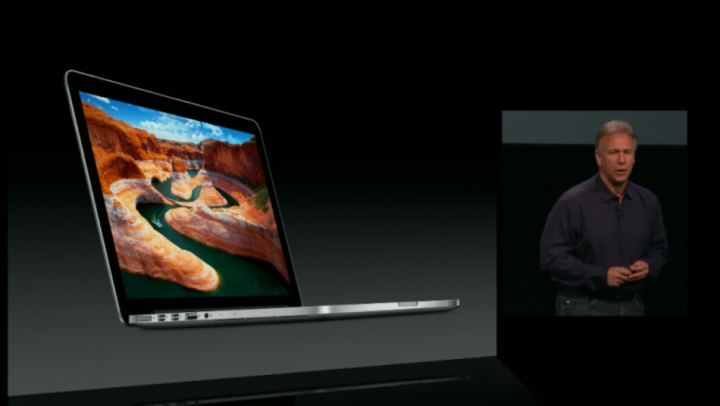 6:25pm: Up to 768GB SSD storage; 8GB of RAM as standard; options of Core i5 or i7; Intel HD 400 graphics. Starts shipping [in the US at least] today.
6:22pm: FaceTime HD camera, backlit keyboard, dual mics.
6:20pm: No optical drive, USB 3.0, Thunderbolt, MagSafe 2, 13.3 Retina Display (2560x1600). 13in notebook has more pixels than any competitive 15in or 17in laptops.
6:19pm: 13in MacBook Pro with Retina Display announced - 20 thinner than previous generation 13in MacBook Pro.
6:18pm: 13in MacBook Pro is Apple's best selling Mac. Here it comes.....
6:16pm: Phil Schiller up on stage - "a very big day for Mac." Talking about 15in MacBook Pro with Retina Display. Listing off great reviews.
6:15pm: Mac is number one desktop and number one notebook in the US.
6:14pm - Now onto talking about Macs. "Incredible momentum for Mac." Mac outgrowing PC market for last six years straight. Key reason - number one ofr customer satisfaction.
6:12pm: New version of iBooks available now for free in App Store.
6:11pm: New version of iBooks announced with new feature called continuous scrolling. Just flick and words flow by. Better integrated with iCloud. Share quotes via Facebook and Twitter.
6:10pm - 160 million Game Center Accounts; 700,000 iOS apps; 275,000 iPad apps; 35 billion app downloads; $6.5bn paid to app developers.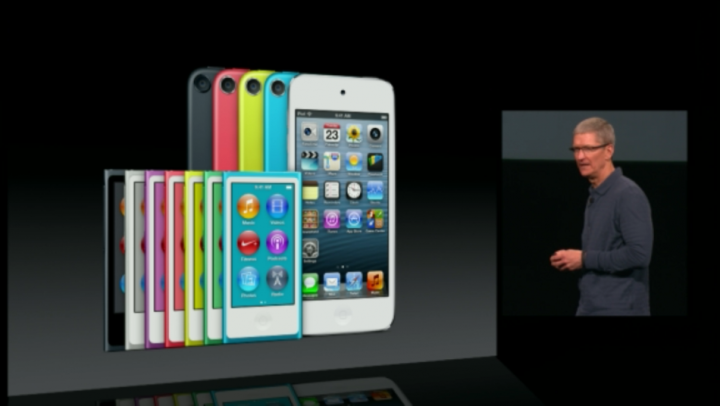 6:07pm - Usual preamlbe from Cook, talking up Apple before diving into the new stuff. Now onto Mountain Lion and iMessage. Says 28,000 messages sent every second.
6:06pm - Now onto the iPods - "All of our iOS devices are powered by iOS 6, our latest version of the world's most advanced mobile operating system." Apple has over 200 million devices running iOS 6.
6:05pm - Talking up iPhone 5. Five million sold in first five weekends on sale.
"Our team works incredibly hard to deliver products like the iPhone 5, and that reminds us why we do it."
6:00pm - And we're off, Tim Cook is on stage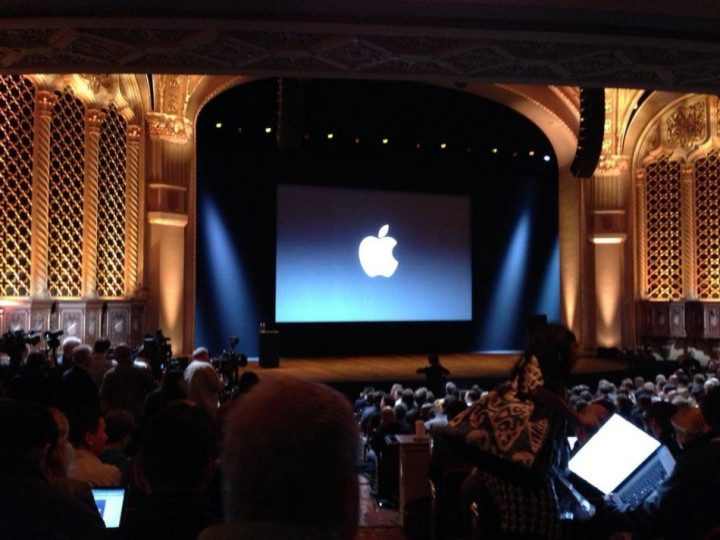 5:50pm - One thing that has just come to mind. all talk of an iTV has dried up in the last few months following huge speculation earlier this year. Any chance Tim Cook will pull one more thing out of the bag? Only ten minutes to find out..
5:45pm - The throng of journalists and analysts line-up ahead of the launch. Picture thanks to Tim Stevens from Engadget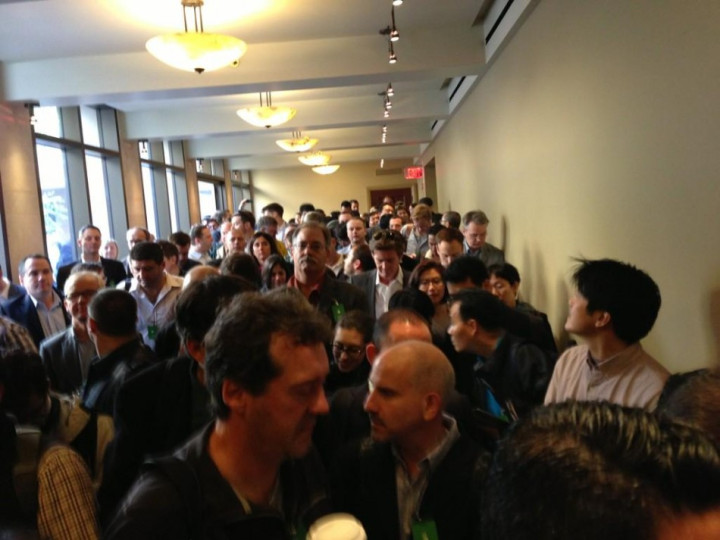 5:35pm - Like the iPhone 5 launch last month, it seems like most of the details of the what will be launched this evening have already been leaked, and while we like a good leak as much as the next person, now that the announcement is upon us, we rather wish we had no clue what to expect.
5:30pm - As my colleague Alistair has just pointed out, it doesn't look like Apple has bought the iPadmini.com URL yet...
5:25pm - And if you hadn't guessed the online Apple Store is down...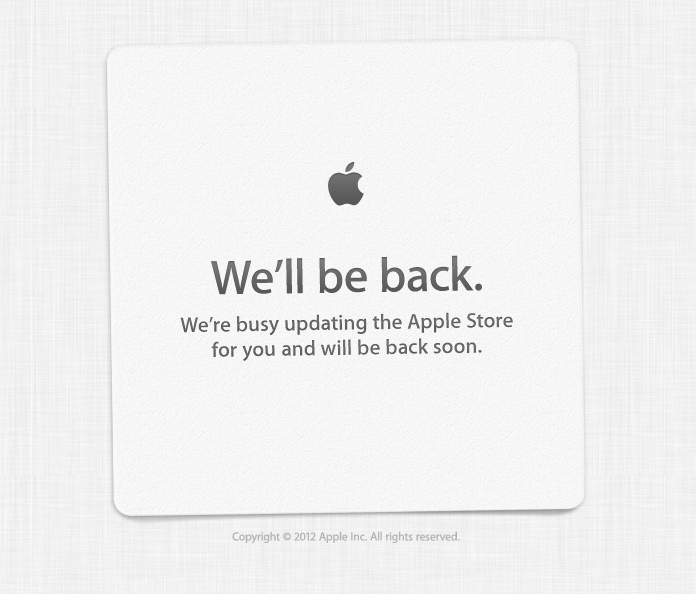 5:22pm - For the past two years, Apple has decided not to live-stream any of its major announcements, leaving fans around the world to wait hours if not days to see the latest annuoncement on video. Therefore it is surprising that the company has done a U-turn this time around and will be live-streaming the announcement online (here) and on a new channel on Apple TV.
5:12pm - Sasha Segan from PCMag is on the ground in San Jose and is tweeting picture updates. The journalists have now been moved into a holding areas as the countdown to the launch begins.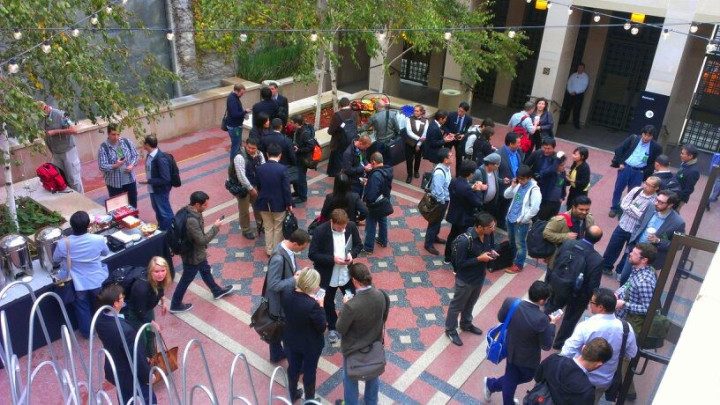 5:10pm - And here's a picture of the event venue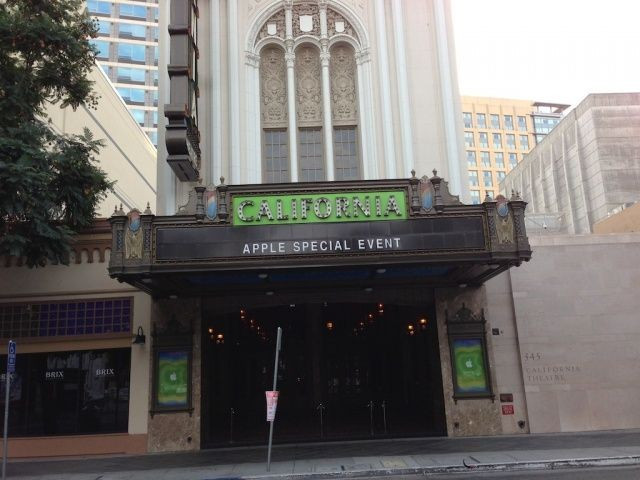 5:08pm - Regarding 4G on the iPad Mini and on a refreshed iPad 3, I met with a executive from EE yesterday about it's new pricing and it was all he could do to prevent himself telling me that the iPad would be compatible with the 1800MHz frequency Ee is using.
5:01pm - With little over an hour to go to kick-off, here's some analysis on the 7in tablet market from Salman Chaudhry, mobile computing analyst at Context, who warns that the iPad mini could pose a major risk to Google and Amazon:
We noted a big spike in sales of 7inch sized tablets in August and September. This was mainly against the backdrop of dramatic price cuts of RIM playbooks coupled by positive consumer uptake of the Nexus 7 and Samsung Galaxy P3110. Across Western Europe and prior to Google's and Samsung's launches this summer, the market share of 7inch tablets was around 7% in June. This skyrocketed to 36% in September.
Our figures show that there is now massive demand for this form factor. A 7inch iPad should worry most of the competition in the tablet space but most of all, we expect it to take revenues away from Amazon, as an Ipad mini will make the device much more of a content consumption device than its siblings. We expect to see Apple take sales away from the Kindle family of devices and the Kindle app itself, as Apple will be marketing the tablet as an iBook, iTunes consumption device.
While a smaller ipad will be the first step to bringing new tablet owners to the Apple family, existing iPads will remain cash cows for Apple. Just as the iPod reached peak market share and was supplemented by a wider range of devices targeting a wider market in the form of the iPod Mini and IPod Shuffle, we've seen this same strategy pan out a second time with Apple releasing a range of devices in a range of sizes to target the widest possible consumer base.
4:50pm - We're back.
3:50pm - People are already lining up outside the California Theatre in San Jose where the event is taking place this evening - which is a change for Apple which has of late been holding its events in the Moscone Center in San Francisco.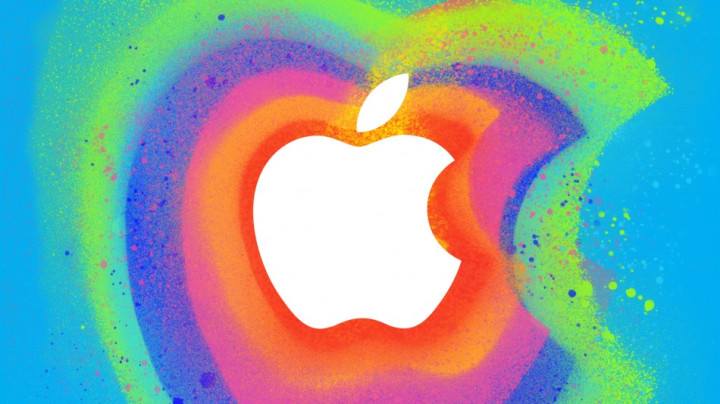 3:40pm - As usual in the hours before a major Apple announcement, there have been some leaks. Over at 9to5Mac, Mark Gurman says he's been sent the processor speeds, RAM and storage options of the new 13in MacBook Pro with Retina Display:
2.5 GHz, 128GB of Flash storage, 8GB of RAM
2.5 GHz, 256 GB of Flash storage, 8GB of RAM
2.9 GHz, 512GB of Flash storage, 8GB of RAM
His colleague Jordan Kahn has also been sent some leaked information, this time about the updates to the Mac mini range. Previous we've heard that Apple would be launching two new base configurations along with a third running OS X Server and this has been conmfirmed by the leaked information:
2.5 GHz dual-core, 4GB RAM, 500GB Hard drive
2.3 GHz quad-core, 4GB RAM, 1TB Hard drive
Server: 2.3 GHz quad-core 4GB of RAM, 2TB Hard drive
Obviously these reports have yet to be confirmed by Apple, but all seem along the lines of what we wuold have expected.
3:24pm - With just over two-and-a-half hours to go before Tim Cook takes the stage in Califronia, we're here and ready to take you through for the next four hours or so talking all things Apple as the long-awaited iPad mini is set to be unveiled, along with some other goodies.
Please add your comments, observations and best guesses about what will happen at the bottom of the page, and join in as the afternoon/morning/evening progresses (delete as appropriate).
So settle down, feet up, brew a cup, open a packet of biscuits and prepare you wallet for some pre-ordering later today.
Must Read:
What to Expect from Apple Event on 23 October