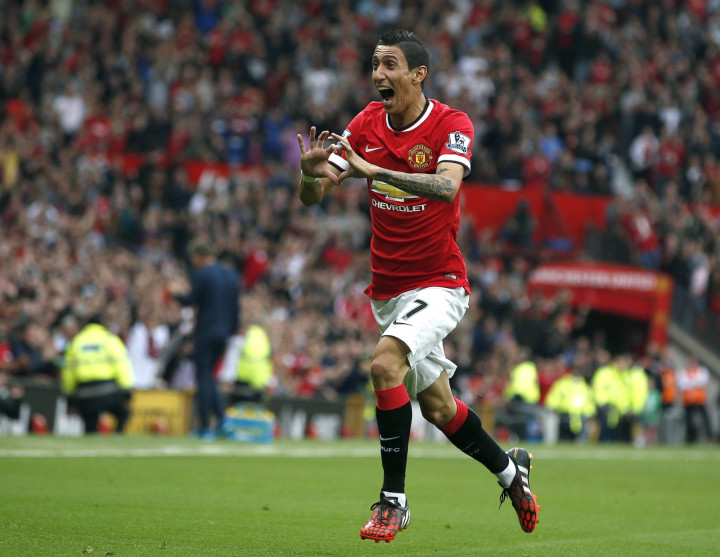 Manchester United 4-0 QPR FT
5:52pm: And that's a wrap! United finish the game in style with a 4-0 win over their opponents. Sir Alex Ferguson's first win with United was over QPR, could we be seeing the dawn of a new era here as well? United face Everton and Chelsea in the next month and those tests will surely give more insight. Thanks for joining us.

5:48pm: A chance for Januzaj, two in fact! The youngster attempts to get past Rob Green but it's saved, then he shoots wide.
5:47pm: Just minutes to go - can QPR savour a goal? they've had two shots on target today but currently only have 31% possession...
5:43pm: Falcao has a chance! But it's caught by Rob Green after the striker pounces on Daley Blind's parried shot.
5:41pm: Di Maria is off with what appears to be cramp and Adnan Januzaj is on in his place. It's been a great showing from the Argentine and his performance has certainly left United fans feeling positive.
5:36pm: Falcao hasn't been much of a threat so far for United, who are still looking dominant bar one decent chance for QPR.
5:31pm: Sandro is off with an injury, and full time can't come quick enough for QPR who have had a horrible day. Karl Henry is on in his place.
5:25pm: And he's on! In place of Mata, which is curious considering Robin van Persie has been quiet today. United have had 5 shots on target without Falcao and 4 have gone in. How many will he have in the next half hour? Antonio Valencia also comes on for Rafael.
5:23pm: Falcao is being given his final instructions from Louis van Gaal and is ready to take to the pitch.
5:18pm: Eduardo Vargas is on for Charlie Austin but you'd sense QPR are now looking to try and minimise the embarrassment.
5:15pm: GOAL! Juan Mata gets on the scoreboard and United are up 4-0. There's no coming back for QPR now. Another assist from Di Maria, who has looked fantastic today for United, and four different scorers for the day will certainly make Louis Van Gaal happy and put Mata's critics to rest for now.
5:07pm: QPR get their first shot on target thanks to Armand Traore but it is saved by David De Gea's feet. United will surely just protect their lead now - or will they go to make it more?
5:05pm: And we're back! Just one change from QPR with Armand Traore on for Clint Hill.
4:47pm: And that's a wrap on the first half.
4:45pm: GOAL! Wayne Rooney gets in on the action and loses his marker to easily slot the ball into the net. United are looking good here but QPR look equally bad.
4:42pm: United are totally in control here as half-time approaches and fans are certainly rejoicing that their old side is back. Of course 45 minutes isn't really enough to judge that but those at Old Trafford wouldn't know it right now...
4:36pm: GOAL! Manchester United double their lead through Ander Herrera. Wayne Rooney's shot is blocked but the captain finds Herrera to slice through the defence and but United in a very favourable position. Di Maria's assist to Rooney deserves a lot of credit - he's looking every bit the record-breaking transfer so far.
4:36pm: And there's those mistakes from United's defence which we all know and love of late, with Matt Phillips testing David De Gea.
4:31pm: The struggle for QPR now is that they can't just play for the draw, but they are yet to move forward. Will Harry Redknapp bring on Bobby Zamora? Or try and wait it out until half time?
4:29pm: Was the free kick overhit or did Di Maria plan for it to bounce before curling on exactly the right angle? Probably the former, but for the romantics we'll take the latter. United still with most of the possession.
4:24pm: GOAL! Angel Di Maria scores on his home debut for United! The Argentine takes a brilliant free kick which was never going to be saved by Green. And United have the advantage - will their defence be tested now? It hasn't really happened yet so far today...
4:19pm: Make that 77% possession in United's favour at the moment but they're still not looking so dangerous in front of QPR's keeper Rob Green. Having said that, van Gaal certainly has some good options on the bench if he feels a goal's not going to happen with this line-up...
4:16pm: Ander Herrera has an attempt blocked from outside the box. Still nothing on target for United.
4:13pm: Mata has impressed so far for United, having their best chances though Rob Green is yet to make a save. And Daley Blind is looking very at home already as he directs the midfield.
4:08pm: Manchester United have 70% possession right now and look far more organised than in recent matches. Ferdinand is doing well to clear their attacking shots.
4:04pm: It must be tough for Ferninand with the Old Trafford faithful well and truly on his side - will his head be right for this game? He starts well by clearing a cross by Di Maria.
4:00pm: And we're off!
3:57pm: Just minutes till kick-off - if QPR can get their defence organised this could be a hell of a game!
3:55pm: According to OptaJoe,
23 - Rio Ferdinand hasn't conceded a foul in any of his last 23 PL appearances at Old Trafford. Return."

3:47pm: And the players are coming out and getting ready for kick-off. It's hard to see past United with such a long list of stars - some of which ave cost more than the entire QPR starting XI - but QPR may be able to take advantage of a side which still look nervous without Sir Alex Fegruson in the dugout.
3:40pm: So that's Falcao starting on the bench for Manchester United while Marcos Rojo and Daley Blind are handed their debuts along with Angel Di Maria. Meanwhile Ferdinand led out the QPR side to a standing ovation at Old Trafford.
3:35pm: And here's the moment we've all been waiting for - the team line-ups with a host of new summer signings for United:
Manchester United starting XI: De Gea, Rafael, Evans, Rojo, Blackett, Herrera, Blind, Mata, Di Maria, Rooney, van Persie
Subs: Lindegaard, Shaw, Fletcher, Januzaj, Valencia, Pereira, Falcao
Queens Park Rangers starting XI: Green, Isla, Ferdinand, Caulker, Hill, Kranjcar, Sandro, Fer, Phillips, Hoilett, Austin
Subs: McCarthy, Traore, Onuoha, Henry, Vargas, Zamora, Taarabt
3:30pm: Good afternoon and welcome to IBTimes UK's coverage of the Sunday Premier League fixture with Manchester United taking on QPR at Old Trafford. It's a big game for Louis van Gaal who is without a win as United manager while QPR will be keen to build on their last win against Sunderland and move into safe territoy in the table.