Canada 9-3 Great Britain - Canada win men's curling Olympic gold medal

Canada complete curling double in Sochi
Britain settle for silver and fourth medal of the Games - a joint record haul in the Winter Olympics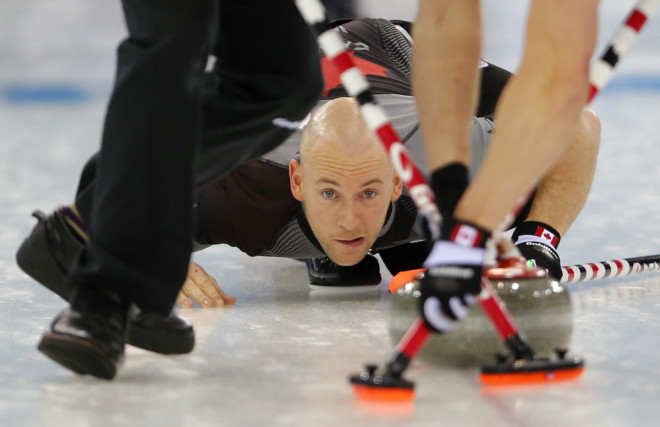 15:56: Well that's that. Britain fall short of a second gold medal of these Games but they leave with a silver. Elise Christie goes in the 1000m short track later and could take GB to a record haul in Winter Olympics history. Until next time, goodbye.
15:54: Flower ceremony taking place in the Ice Cube Curling Centre. British quintet receiving rapturous applause from the crowd and look like the silver medal might just be sinking in. Let's hope they realise the significance of their achievement sooner rather than later.
David Murdoch speaking to CBS Sports: "We never got off to a good start. We had to focus and they came out hard. We didn't get our draws. When you go 5-1 down to any team, let alone these guys you're not going to come back. I feel so disappointed for not getting gold. The silver is cool but I'll appreciate it in five or ten minutes."
15:43: For those who are not curling aficionados, it might be hard to fathom the nature of this defeat for GB. They may return home with a silver, but Canada have produced a dominating and ruthless performance while David Murdoch's rink have not done themselves justice. Big shame. Waiting to here from Murdoch and the boys.
Canada 9-3 Great Britain – Canada win the men's curling gold medal
End 8: Well Britain resume and play a decent draw to land on their own yellow stone at the top of the house. Jacobs throws on down and leaves Canada with two and dismiss all three British stones out of the four-foot circle. Oh. Murdoch extends his hand and Canada have done it.
End 8: Canada to their credit could easily be blanking out the end here but they are playing to further extend their lead. Murdoch going with his final two stones of the final, and the Olympic campaign very likely. Time out for GB. In vain, you'd think.
End 8: Michael Goodfellow plays a nice draw. Playing at 92% is the Brit opener, but the remainder of his rink have failed him today. Any score for Canada here will see a handshake for sure. Britain are lying shot at the moment though.
End 7: Just about sums it all up. Britain only get the one and give up the hammer and any hope of a comeback. Murdoch is considering throwing in the towel.
End 7: Good draw from Britain after Canada attempt to clear the house, they are lying with one and they also have the hammer. The start of a comeback? Probably not but it gives some respectively to the flow of the game.
15:12: What would we have preferred here? A tight, yet agonising defeat or a humbling knowing we have silver already in the bag? Short track and Elise Christie in the 1000m on next.
End 6: Super double take-out from Jacobs and Canada do lie with two but the double is on for Murdoch. He goes with the hit and roll and goes on too far and Canada grab the two. Case of when, and not if for Canada now.
End 6: Hit and roll time for David Murdoch in an attempt to make a steal and it doesn't come across enough and Canada will lie shot with two it seems.
End 6: Canada, with the hammer, can't resist but try and pile on the points here. They lie shot with two and Britain are always a shot behind. One slides by from Greg Drummond and Canada take out two British guards with ease. Really not going GB's way.
14:52: So we head into the fifth end break with Canada 6-2 ahead and their grip on the gold medal strengthening with every end. Britain require a steal and at least a two in the early stages of the second half to stand any chance. What is more likely, is Canada win at a canter.
End 5: Canada and Brad Jacobs are loving this and they want to pile the misery on GB here. They play a guard after Murdoch rolled just by and Britain are forced to settle for a one. The fat lady is warming up.
End 5: Each shot from each member of the rink is rated out of four and converted into a percentage for accuracy. Bar, Ryan fry, each of the Canadian rink are in excess of 90%, while David Murdoch and Scott Andrews are at 53% and 63% respectively. Not good enough.
End 5: The frustrating aspect of the remainder of this match is that Canada can blank out each of the remaining ends and take the win. Not very sporting, admittedly, but they needn't entertain an open contest with Britain desperate for points.
End 5: After a thrilling run to the final, Britain are taking silver with a whimper here. Murdoch's rink take the hammer but it's all about damage limitation already and we've barely started the fifth end. Canada strolling to the gold.
End 4: Murdoch goes through the back of the house and seemingly ends hopes of getting a two. Jacobs plays a poor draw but the skip can't take advantage, failing to catch the Canada stone sufficiently to lie with one, let alone two. Further disaster for Britain.
End 4: Good draw from Greg Drummond in behind a Canada stone in the house and Ryan Fry is now trying to set up the double take-out as Britain go in search of a priceless two. Drummond produces the ideal hit and roll though and a two looks on.
End 4: Britain regain the hammer and must make at least a two here and hope that Canada capitulate before the fifth end break. Jacobs is at his brutish best and Murdoch has to inspire his rink to a stunning comeback. A nice hit and roll from Goodfellow and Britain have a foothold.
End 3: Murdoch goes with a hit and role but misses and Canada are pulling away here after just three ends. You can't win a curling match in the first half, but you can lose it and Britain's start has them under pressure and on the brink of settle for silver without a trace. Canada go 5-1 up as Brad Jacobs plays the draw.
End 3: Very messy start to the third end with both teams making mistakes but Canada lie with five until Drummond knocks three out of danger. Britain really hanging on in this Olympic final. Not got going at all.

End 2: Well after surviving just a two in the opening end, Britain are unable to take advantage and only get a one. Jacobs with a superb hit and role and Canada have the advantage after two ends.
End 2: Britain out of jail somewhat as Canada play a poor fourth stone and knock one of their own through the back of the house. Britain now lying shot and really need a two to stifle the Canadian threat.
End 2: A first for curling in Sochi, a shirt violation for Britain as Michael Goodfellow is forced to replace his top which didn't have his name on. Against the rules I am reliably informed. Back to the second end and Canada are again in the ascendency with two stones in the house.
End 1: Jacobs plays a perfect stone with his first of the match and David Murdoch is facing allowing at least a two at this stage. The skip plays Britain's final stone and it's a good one. Two Canada stone are struck away from danger and the gold medal holders are forced to settle for a two. In the grand scheme of things, that's a good finish for Britain.
End 1: An error from the British rink in the opening end as they catch their own guard with a misplaced draw from Greg Drummond. Canada play the perfect draw however and they are sitting in an ominously imperious position. Four stones in scoring positions at the moment, with one British stone at the back of the house.
End 1: The hammer is only rotated when the rink holding it scores a point, so Canada will be keen to stretch out a lead in the opening end with a two or more. Britain's task will be to restrict them to a one or even to steal, priceless points in any match. Canada are current lying shot with three stones left for each team.
End 1: Would normally expect a bit of jousting in the first end but no such doing in the Olympic final. Canada, with the hammers - which is the right to have the final stone - play a guard to the left first up and now join Britain in the house with their second stone. The 'house' is the scoring circle at the top of the sheet. Any stones still in the house at the after the end is finish are potentially scoring stones.

13:36: Both teams are now being introduced to the Ice Cube Curling Center crowd in Sochi. 'Firestarter' by The Prodigy is now being pumped out by the Russian DJ. A good mood-setter. And we're underway with the first stone......
13:35: Canada, or the 'Buff Boys', are the supreme athletes of their sport. They are led by skip Brad Jacobs, vice-skip Ryan Fry, E.J. Harnden and Ryan Harnden. Jacobs is a former world championship silver medallist and you can expect plenty of emotions out there from the Canadian team, who are under pressure to repeat the heroics of their female counterparts.
13:30: Time to introduce you to the British quartet that is going for gold this afternoon. The rink, the curling term for team, is made up of skip David Murdoch, vice-skip Greg Drummond, Scott Andrews and Michael Goodfellow. They will deliver two stones each in reverse order. Of course the men are looking to repeat the success of the Britain women's team led by Eve Muirhead, who claimed bronze on Thursday. If that match is anything to go by, you'll need those fingernails.
13:25: For those concerned about no knowing their rinks from their draws, their stones from their guards, I'll be on hand to guide you through the complexities in one of the cult sports of these Winter Olympic Games. Britain can win a second gold medal in the Games for the second time in Olympic history this afternoon, and with Elise Christie going in the short track speed skating this evening, GB could have their highest ever medal haul by the end of the day. Fabulous Friday, if you will.
Canada though represent serious opposition and not only are they reigning champions, but they defeated Britain convincingly in the round robin stage. David Murdoch's rink have made life difficult for themselves in reaching the final, requiring a play-off to reach the last four, with an inspired final stone from the skip, before beating world champions Sweden with another pressure-filled final stone.
13:15: At the 2002 Winter Olympic Games in Salt Lake City, curling's return to the Games capitvated a nation as Rhona Martin's British rink claimed a momentous gold. Twelve years to the day, David Murdoch's men have the chance to emulate the success and once again put the lowly sport of curling on the map. In their way are reigning Olympic champions Canada, who are looking to secure a clean sweep of the curling medals after their women crushed all-comers in winning gold on Thursday. We're off in 15 minutes.