Jamie Redknapp believes that Liverpool winger Raheem Sterling can have a bright future for club and country after making his England debut in the 4-2 loss to Sweden on Wednesday night.
The 17-year-old has enjoyed a meteoric rise to prominence, forcing his way into the first team plans of manager Brendan Rodgers and making his first start in an England shirt under Roy Hodgson.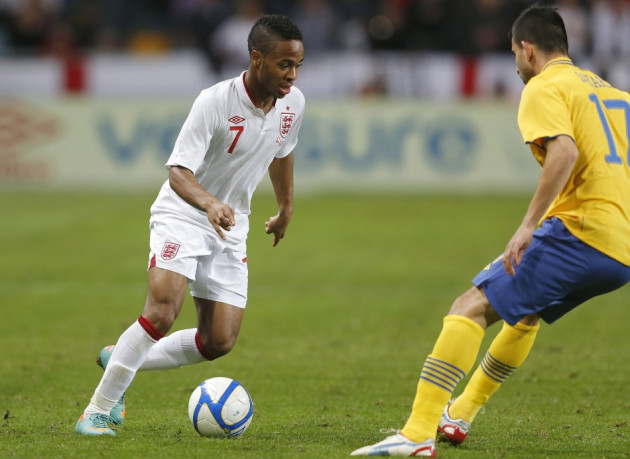 His rapid rise has seen him become an integral part of the Liverpool side and Redknapp believes he will become more important to England than Arsenal duo Theo Walcott and Alex Oxlade-Chamberlain.
"Raheem Sterling of Liverpool was impressive," Redknapp wrote in his Daily Mail piece when assessing the performances of the England debutants.
"I can see him overtaking Alex Oxlade-Chamberlain and Theo Walcott within a year. He has quick feet, tiny steps and explosive pace. But he is intelligent and strong and demands the ball. He will only get better."
The Arsenal pair of Walcott, who made his England debut at 17 and Oxlade-Chamberlain, who was a year older at 18, both exploded onto the international scene at an early age and have become important members of Hodgson's squad.
However, neither are considered first choice at Arsenal this season and it seems Redknapp believes Sterling will become a more important player for both club and country.
The Liverpool winger has still yet to declare that he wants to play for England and, despite playing in this friendly, could still make the decision to represent the country of his birth, Jamaica.
Hodgson has certainly shown some faith in the youngster and believes he now simply needs to continue his growth with Liverpool in order to become an established international.
"He had a difficult start, the first fierce challenge winding him and putting him on the ground, but he got better as the half went on," Hodgson said.
"He's a young man with a future, a young man with talent. He's got to hone that talent with Liverpool."