This week Brendan Rodgers made the claim that he believed Liverpool could follow in the footsteps of Borussia Dortmund.
Dortmund are currently in the Champions League semi-final where they face nine-time European champions Real Madrid, and despite being viewed as underdogs, can lay claim to having beaten Jose Mourinho's side at the beginning of the current campaign, topping them in the supposed group of death.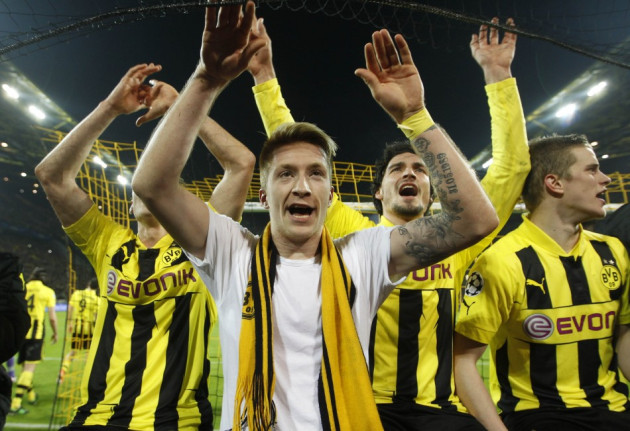 While Dortmund have enjoyed success in the Champions League this season, their league form has taken a slight dip with Bayern Munich already crowned champions and chasing down a memorable treble.
Bayern entered the record books by claiming the title in record time as they won the league with six games to spare, whilst most recently they beat Wolfsburg 6-1 in the semi-final of the DFB Pokal (the German equivalent of the FA Cup), and their 4-0 aggregate win over Juventus in the quarter-final of the Champions League was impressive to say the least.
That Dortmund were able to turn themselves froma mid-table club to a side that overcame Bayern two seasons in a row, in 2011 and 2012, under eccentric former Mainz manager Jurgen Klopp, was an amazing feat that most Premier League clubs could only dream of.
In the Premier League, there isn't the same dominance by one side; Bayern currently boast 22 Bundesliga titles while the second club on the list (BFC Dynamo Berlin) has 10; with multiple clubs spending big, achieving regular Champions League status and vying for the title in England, Rodgers rightly makes the point that it's very difficult to make the step up from mid table to competing for a top four spot in the Premier League, no matter how much money you spend.
For Dortmund, success has only been very recent and has come as a result of a number of factors. The first has been patience in Klopp to deliver, with the 45 year old coming into the fray when the club were in the the bottom half of the table in 2008.
In his first season he was able to guide the club from a 13th place finish to sixth, with a DFL Super Cup win to accompany the rise in the table.
There was further improvement in the second season as, despite not landing any silverware, they did imrove on their league position by finishing in fifth. By now the side were building slowly, with Klopp promoting Mario Gotze to the first team at the tender age of 17, and bringing in the likes of Mats Hummels, Shinji Kagawa, Nuri Sahin and Robert Lewendowski over the two year period for modest fees.
The entire rebuilding process seemed to take two seasons, and though for Dortmund the mountain to climb to second was more achievable with a fresh young group of players and a new attacking style of play that could challenge any German defence, overcoming Bayern was their ultimate goal, and after three years in charge Klopp got there, with the side winning the Bundesliga in 2011 by seven points.
Dortmund, whose squad boasts a healthy number of homegrown German players, are now looking at European success, showing they learnt from last season's group stage exit to come through to the semi-finalsthis time around. Should they reach the final, they could be up against their national arch-nemesis, but win or lose it's a great story for a club who spent around €25 million over the last 12 months and have still made so much headway in Europe.
Can Liverpool emulate this success under Rodgers? He is certainly trying to instill the same attacking philosophy that Klopp introduced at Dortmund but there are question marks over whether he will be given the time to lead the club back into the Champions League and mirror the success of Dortmund.
It came as a shock to many that Kenny Dalglish was sacked so soon after being handed in excess of £100 million to spend on players over the course of the season. But Fenway Sports Group made it clear that after having not achieved Champions League qualification, they wanted a 'different direction'.
For Rodgers, in the season after Dalglish left he will realistically take Liverpool as high as sixth, if they beat Everton on May 5th and see their rivals drop points elsewhere. While it is only two places higher than the year before, it will certainly be a step up from the team that Dalglish was managing over 2011/12.
Rather than purchasing players such as Stewart Downing, Andy Carroll and Charlie Adam, who were all given top billing in the papers but didn't necessarily fit into the line-up at Liverpool, Rodgers has come in with a much tighter game plan, and wants players who can play off one another to create a team rather than have the big name and fee behind them. In this sense, he is again similar to Klopp.
For a side looking to be in the mix for Champions League qualification, the step up from mid-table to sixth is a big one, and to fourth is a bigger one again. Klopp showed, in German football terms, that the ultimate goal can be achieved over three seasons, and if Rodgers is given the same patience to achieve his own goals, he can then push the ceiling higher like Dortmund will against Real Madrid next week.