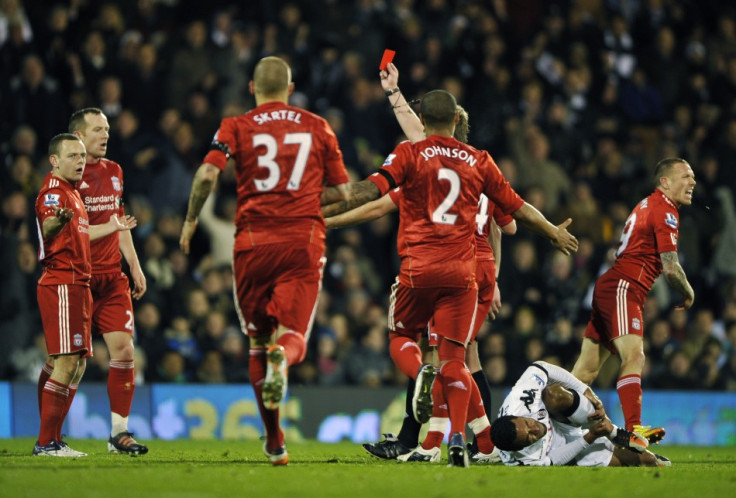 Mark Lawrenson believes Liverpool forward Luis Suarez is being singled out for unfair criticism at the moment.
Citing Jay Spearing's challenge on Mousa Dembele on Monday night which resulted in the Liverpool midfielder getting sent off, Lawrenson believes the Fulham forward's reaction was partly to blame for a dismissal the former defender evidently disagrees with.
The aforementioned Match of the Day pundit believes the Liverpool star's tackle on the Belgian international was a good one and certainly not worthy of a red card, and suggests the incident mirrors the one seen in the Merseyside derby earlier in the season.
Everton midfielder Jack Rodwell was sent off for his tackle on Liverpool striker Luis Suarez in a decision that was deemed harsh in the extreme. The dismissal was subsequently rescinded but Suarez was widely criticised for the way he fell to the ground under Rodwell's challenge.
Liverpool legend Mark Lawrenson suggests the fact Dembele has not been singled out for his similarly dramatic theatrics, is indicative of the current predicament Suarez currently finds himself in.
"I saw Spearing's tackle described as a two-footed lunge, but hang on - he got the ball with one foot! Maybe I'm a cynical old pro." The former Anfield star told the Liverpool Daily Post.
"I wouldn't mind so much, but Dembele went down screaming, had a bit of treatment and was then okay five minutes later.
"Exactly the same situation happened with Luis Suarez over Jack Rodwell's similarly outrageous red card, and the Liverpool man was slaughtered. Why not Dembele?"
The Liverpool striker is currently awaiting his FA hearing in regards to his well-publicised case involving Patrice Evra and on Wednesday evening he was charged for a second time for an alleged misconduct incident at Craven Cottage.