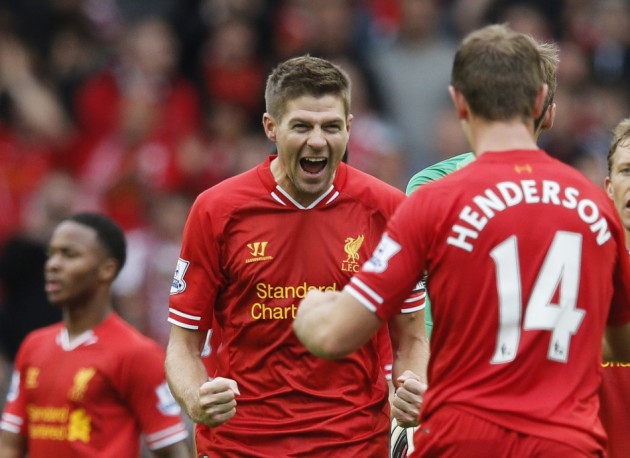 John Aldridge has argued that Steven Gerrard would be able to break even more records for Liverpool if the captain were given more freedom to link up with Daniel Sturridge and Luis Suarez up front.
Gerrard scored for his 15th consecutive season for the Reds at the weekend, setting a new record at Liverpool and further asserting his own legendary status at the club.
He is currently being utilised in deeper midfield role alongside Lucas Leiva while Sturridge and Suarez have settled into playing alongside each other up front.
But Aldridge believes that he would make the attacking line-up unstoppable if the England international were able to have more freedom to move regularly into the final third.
"We need Steven to score more goals, and the way we're playing at the moment is stopping him from getting in and around the opposition penalty area as much," he told the Liverpool Echo. "I'd love to see him given a bit more leeway to link up with Luis Suarez and Daniel Sturridge.
"Imagine those two football brains with Stevie's imagination and talent behind them.
"With a triangle like that at the top end of the pitch you really would be talking. The problem with Stevie is that he is just so good wherever he plays.
When he plays deeper his range of passing is so good that he dictates the match from that position.
"He's the team general and he carries out the role that Brendan Rodgers asks of him to the letter.
"But for me his role is just a little too regimented at times."
Aldridge, like many former Liverpool players and current fans of the club, can't get enough of the success that Sturridge and Suarez are bringing to the striking department for the club this season.
The former held his own while the latter served out the rest of his suspension and since coming together both Sturridge and Suarez have got Liverpool back on track to regaining a top four spot this season.
Aldridge explained: "Luis Suarez and Daniel Sturridge are two clever lads who are also very gifted with the ball at their feet.
"They've hit it off straight away, but they are also still learning about each other's games.
"The worrying thing for Premier League defences is that the more they learn about each other the better they are going to be as a partnership."