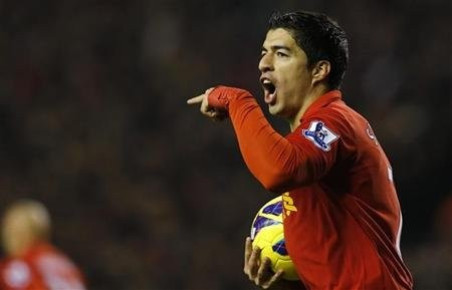 "Love me or hate me, both are in my favour...If you love me, I'll always be in your heart...If you hate me, I'll always be in your mind." - William Shakespeare
Whether you love him or loathe him, Luis Suarez is fast becoming one of the most talked about figures in the Premier League. The Uruguayan may divide opinion but his place in the consciousness of fans up and down the country has been well and truly cemented.
Last season the negative comments were undeniably just as Suarez was handed an eight game ban for racially abusing Manchester United left-back Patrice Evra. There was no defence for the comments and Suarez eventually admitted that he had made a mistake in trying to justify his words.
As witnessed with the outrage shown when Serbian fans repeatedly taunted England Under-21 star Danny Rose with monkey chants, racism in football is a subject that requires careful handling and 99.9% of fans will agree that there is no place for it within the game.
Having moved on from this unsavoury moment, Suarez continued to thrill the Liverpool supporters with his displays. At times he looked a world beater, singlehandedly creating opportunities with a mixture of endeavour and utter brilliance.
His work rate is undeniable, his thirst for the ball unquenchable, as he repeatedly wrong-footed the most elegant of centre-halves with neat turns and clever tricks. Yet still the negative comments rained down as he wasted chances and struggled to find the back of the net on a regular basis.
At the start of this season Suarez was further ridiculed for his theatrics. Now he had become the pantomime villain as he was accused of, doing what all foreign players do best if you listen to some football experts, diving.
Fans across the country launched into a stinging tirade as they accused the Liverpool striker of being a cheat. Every time Suarez goes to ground and fails to win a free-kick or penalty there are ironic cheers and angry insults flung in his direction.
Liverpool fans, meanwhile, continued to worship their new saviour. He became the one shining light as Brendan Rodger struggled to implement his ideas on the players. An embarrassing home defeat to Arsenal further highlighted the problems that had been witnessed on the opening day of the season when they lost 3-0 to West Brom.
The rather cringeworthy documentary Being: Liverpool did the club no favours and Suarez's place as the villain was further cemented. Yet, in recent months, there appears to have been a slight sea change with fans from outside Anfield beginning to appreciate his ability.
Suarez has even managed to bring a smile to the face of Everton fans, all be it begrudgingly, as he extravagantly 'dived' in front of David Moyes while celebrating his goal in the Merseyside derby.
His continued brilliance in a Liverpool side which is sadly lacking has further endeared him to supporters. There cannot have been a single fan who did not applaud when Suarez so brilliantly finished against Newcastle, having controlled a 70-yard pass on his shoulder and in the blink of an eye rounded the helpless Tim Krul and put the ball into an empty net.
This season he is the joint top scorer in the Premier League with eight goals but that does not tell half the story. It is the importance he has on the Liverpool side, without him in their ranks they would be battling relegation.
His sheer brilliance is beginning to be witnessed on a weekly basis as he teases and taunts defenders into making reckless challenges, like that of Newcastle's cultured centre-back Fabricio Coloccini.
Like Ronaldo before him, who angered the entire football nation with simply a wink, Suarez is beginning to win over his detractors. Fans of rival clubs will always have certain distaste in their mouths for such a talented player. He can single handily defeat the side you love and adore, and even worse he will celebrate whilst doing so.
However, if he continues to score goals like the one against Newcastle; produces moments of sheer brilliance, and makes the game look so deliciously simple, then perhaps that hatred will slowly transform into a begrudging admiration. I think he'd take that.