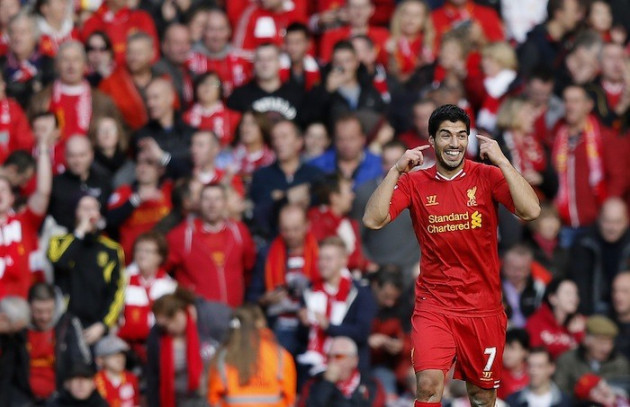 Liverpool defensive midfielder Lucas Leiva has claimed that Luis Suarez is happy and content at the club, insisting the Uruguay international is in a positive mind set and ready to help the side qualify for the Champions League.
During the summer Suarez's future with the Merseyside club appeared far from certain with the striker admitting he wanted a move away from England and then to a side that could offer Champions League football.
He privately apologised to Brendan Rodgers for his comments about the manager breaking a promise to let him leave if Liverpool finished outside the top four and has since looked more focused for the club, scoring six goals since making a return to the Premier League from suspension at the end of September.
And Lucas says that on the back of a brilliant performance against West Brom at the weekend in which Suarez scored a hat-trick, his mentality is more positive than ever as the Reds sit in third in the table.
"It shows why the club fought so hard to keep him in the summer," Lucas told reporters. "What he did last year for us and what he is doing already just shows that is why the club wanted to keep him.
"Liverpool want to keep their best players and he was the best player last year - and probably the Premier League's best player.
"We are happy he stayed with us and he is just showing every week how committed he is.
"It doesn't matter what was going on in the summer his mind now is just to help the team, to achieve great things and hopefully it will finish in a positive way in May."
Lucas said that while all the speculation and rumours have been rife for months the reality is much more simple and when Suarez is on the pitch playing football he is happy.
The Brazilian explained: "We see him every training session and we know he loves what he does and when he gets on the pitch he just tries to help, that is why we are so happy for him because he deserves what he is getting.
"No one gets goals and great performances if you don't work hard and of course he is a special talent so it makes it easier for him."