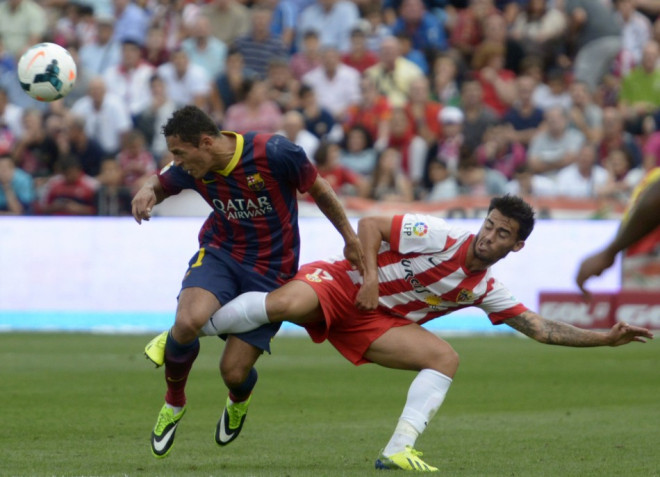 Liverpool starlet Suso claims that he would like to play at Sevilla but refused to confirm recent reports that suggest that he is going to leave Anfield at the end of the season to join the Andalucian side.
The Spanish prodigy is currently at Almeria, after Brendan Rodgers decided to send him on loan to La Liga last summer to complete his development and secure more playing time.
Earlier this week, reports in Spains claimed that the young winger is so happy in La Liga that he is set to put an end to his Anfield spell and join Sevilla, as the negotiations between the player and the club continue.
Asked in an interview with Spanish newspaper Estatio Deportivo about that, he said: "Sevilla would be a good place for me.
"But I know nothing (about their interest). Maybe they have talked to my agent. I have always liked Sevilla because how they live football, their character and their stadium. Furthermore, it is only an hour from my house."
Nevertheless, the 20-year-old playmaker reveals that he is currently negotiating a new extension with Liverpool, as his contract expires in 2015.
"I'm talking to Liverpool regarding a possible renewal. Next year they will probably play in the Champions League and I am thrilled about playing it."
It is understood that Liverpool's desire is to keep the player at Anfield but if they don't convince him to sign a contract extension, they will be forced to sell him this summer or let him go for free in the following one.
The Spain Under 21 international made 20 impressive appearances for Liverpool last season and this year he is excelling at Almeria, having scored two goals and grabbing eight assists in 24 La Liga games.
Nevertheless, with Philippe Coutinho starring in Liverpool first-team, his chances of securing a spot in Rodgers' line-up last season appear slim.
Suso joined Liverpool from Cadiz's academy in the summer of 2009 during Rafa Benitez's tenure.