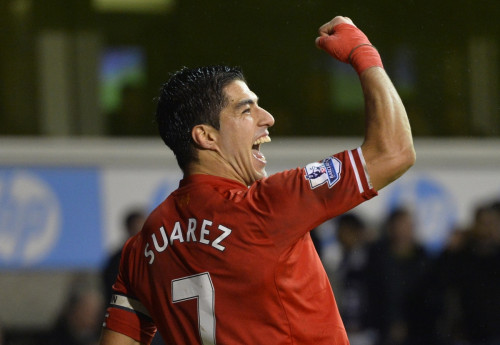 Liverpool have reportedly placed a £70m release clause into Luis Suarez's new contract, with the side hoping to keep hold of the striker beyond next summer unless a big spending club comes knocking.
Suarez pushed for a move away from Liverpool last summer, firstly because he claimed he wanted to get out of England and then he insisted Brendan Rodgers promised he could leave if the side didn't qualify for the Champions League.
But the Reds held firm and kept hold of Suarez in the face of particularly strong interest from Arsenal. They have been rewarded for doing so as he tops the Premier League scorers' table.
Towards the end of last year the Uruguay international looked to have a complete change of heart over his desire to leave Liverpool, signing a new deal with the club that included improved terms.
The Mirror claims that a clause was added in stating that if the Merseyside club don't finish in the top four this season he will be allowed to leave but the purchasing club must meet the £70m valuation for talks to become serious.
Liverpool clearly believe that Suarez is in the same league as Gareth Bale, who left Tottenham for Real Madrid last summer for over £80m, and Edinson Cavani, who joined Paris Saint Germain from Napoli for close to £60m.
Arsenal tested a reported £40m get-out clause in the Uruguay international's contract last summer, but the details of that line in his contract are murky, with Liverpool owner John W Henry claiming that the north London club must have been smoking drugs when they made their play for the side's star.
With Liverpool currently in fourth place in the Premier League table it would appear they stand a decent chance of qualifying for the Champions League next season.
If they don't, Suarez may once again be pushing for a move, though at least now his asking price is known.