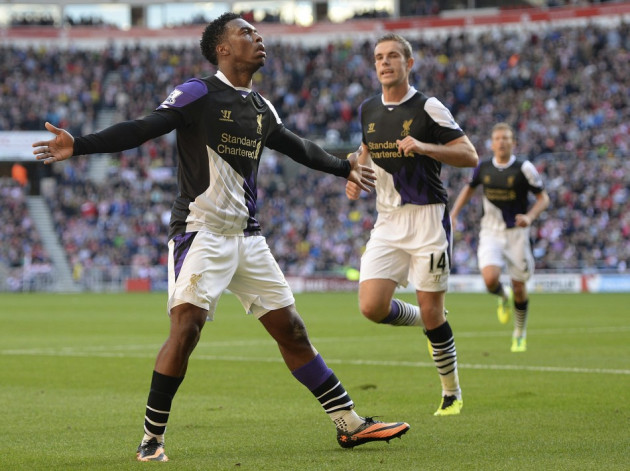 Steven Gerrard believes Daniel Sturridge has been given a better chance at success with Liverpool than at Chelsea, with Brendan Rodgers showing faith in the striker to be the centrepoint of the Reds' attacking line-up.
Sturridge was a somewhat controversial buy for the manager in the January transfer window with some claiming that he wouldn't be good enough after failing to set the Premier League on fire during his spells at Manchester City or Chelsea.
But the England international is so far proving his critics wrong and having scored eight goals so far this season it would appear that whatever changes Rodgers has made to the striker's positioning and motivation seem to be working.
And Gerrard believes that Sturridge's new found responsibility in Liverpool's attack is one of the key factors behind his magnificent form.
The Reds captain told the Mirror: "You've got to understand he was playing as a wide forward at Chelsea. He scored quite a few goals from there but the team was built around Didier Drogba, and understandably so.
"But ever since Daniel's come to Liverpool, the manager has played him as the nine, as the main man, and as a result he's flourished. I'm sure if he's given that nine role for England he can produce for England as well.
"I don't think Daniel has any doubts in his own ability. If he's fit and available he will be confident he can deliver at this level."
Liverpool are currently second in the Premier League table after taking 16 points from their first seven games. The side have gotten off to a flying start this season with their new signings supplementing the loss of Jamie Carragher in defence and helping fill the void left by Luis Suarez while he served the remainder of his ban this season.