Steven Gerrard has thanked the Liverpool fans who have supported the captain throughout his career, as he continues to star for the club and contribute to their rise back to success.
Gerrard is a rare one club man, having played for Liverpool for the majority of his life.
And while the 32 year old is still an integral part of the senior squad, 14 years after moving up from the youth team, Gerrard says he still feels proud to wear the Reds' badge.
"It is the club I have supported since I was a boy and I'm in such a privileged position to captain the team," he told Sky Sports. "A lot of people talk about my loyalty to Liverpool but what rarely gets mentioned is Liverpool's loyalty to me.
"I've been there since I was eight and the contracts kept coming, the love kept coming, they have always supported me on and off the pitch.
"A football career is like a roller coaster, it is up and down and you learn from your mistakes on and off the pitch.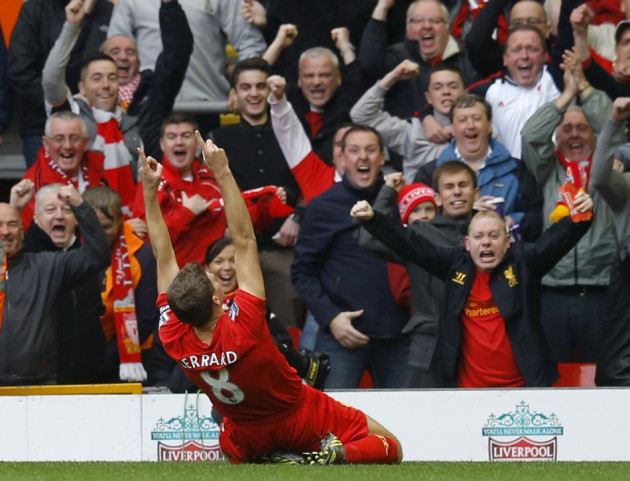 "But no matter what I have done I've always had fantastic people around me at the club. I think Liverpool deserve a big thank you from myself for the loyalty they have shown to me."
Gerrard also revealed that a move to Chelsea was very close to happening, with the captain insisting he has no regrets about staying at Liverpool.
"It [a move to Chelsea] was very close but I have no regrets and am absolutely delighted I stayed loyal to Liverpool," he said.
Gerrard is no doubt an important leader for a side that currently boasts a lot of youth as it undergoes a rebuilding process.
The England international was consulted over the hiring of Brendan Rodgers, and believes that the side have a serious chance at making the top four again this season and qualifying for the Champions League.