Dani Pacheco is hoping that he will be able to take inspiration from his fellow countryman Suso and force his way into the first team plans of Liverpool manager Brendan Rodgers.
The former Barcelona forward has seen his close friend Suso become a regular in the Liverpool side and is hoping that he will be able to follow in his footsteps by proving to Rodgers that he deserves his chance.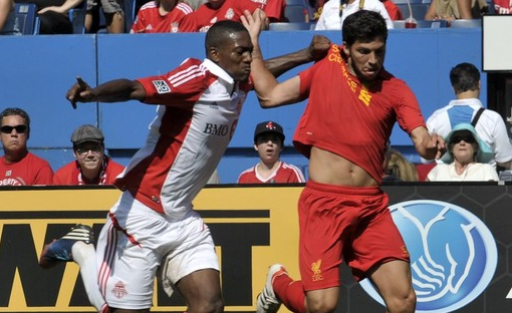 Pacheco has made just three appearances this season but did impress while playing for the Under-21 side on Sunday as they secured a 3-3 draw with Chelsea.
Rodgers is short of options in attack as Luis Suarez is currently the only fit senior striker available after Fabio Borini was ruled out until the New Year.
With Suarez one yellow card away from a suspension, Rodgers knows that he will have to find another forward capable of playing in the first team and Pacheco is hoping he can make his case by playing in Thursday night's Europa League game against Young Boys.
"I haven't played as much as I would like this season, but in football things can change very quickly," Pacheco told the Liverpool Echo.
"Look at what's happened with Suso. He was given a chance and he took it. He has worked really hard and has been playing every week. He is doing very well and I'm happy for him.
"I must try to do the same. I hope I'll get a chance and then it's down to me to take it. I train with the first team every day and if I didn't have the belief that I could become a regular here I would have left already.
"I'll try to make sure that in the near future that happens. If it doesn't happen I will move on and try to make it somewhere else. But I still hope and believe I can make it at Liverpool."
The 21-year-old has struggled to cement a place in the first team squad at Liverpool since he arrived under Rafa Benitez and has been sent on loan to Norwich and Rayo Vallecano.
He was close to joining Valladolid on a season-long loan in August but the deal fell through and he has managed to start two games against Young Boys and West Brom. However, he feels it has been difficult to demonstrate his best form when his appearances have been few and far between.
"It's difficult when you don't play too many games," stressed the young Spanish forward. "The most important thing for a young player is confidence. You get confidence by playing every week and I haven't done that yet.
"The manager loves players with skill but he also wants players to work really hard to win the ball back for the team. I'm doing my best and trying to improve the things that he is telling me to do. Hopefully I will impress the manager and get more games.
"I really enjoyed playing against Young Boys away when we won 5-3 with a very young side. The manager was very pleased with the way we performed and I'd love to play against them again at Anfield.
"There is still a month and a half before the transfer window opens. When January comes I'm sure I'll have a meeting with the manager and we'll decide what is best for me.
"In the summer I was ready to go out on loan but then something strange happened at the last minute. They needed to get rid of one of their players before getting me in but in the end that player never went so I stayed.
"We will see what happens between now and January. I hope I can play more games and get my fitness up. I want to make it here."