Jamie Carragher says he isn't concerned with talk over his future at Liverpool, with the defender concentrating purely on taking the side back into contention for the top four this season.
The Reds' most recent campaign was particularly disappointing league-wise, with the club finishing in eighth place and looking further from Champions League qualification than before they spent £100m plus revamping the squad under Kenny Dalglish.
And while Carragher is entering into the final 12 months of his deal with Liverpool, the star, who has taken a leadership role with the club as new talent comes in, believes that all eyes need to be on the prize of fourth spot.
"The fact is I've got a year to go on my contract and whenever the manager calls upon me I'll be there, wanting to play and wanting to do as well as I possibly can for Liverpool," he told the Echo. "That's always been the case and nothing will change this year.
"It's up to the manager when he picks me, what games he thinks are right for me. He's the boss and he makes the right decisions. You've always got to respect the manager's decisions.
"I wouldn't say getting a new deal is my motivation. My motivation is to play well for Liverpool, for Liverpool to win games, hopefully get a trophy and get into the Champions League.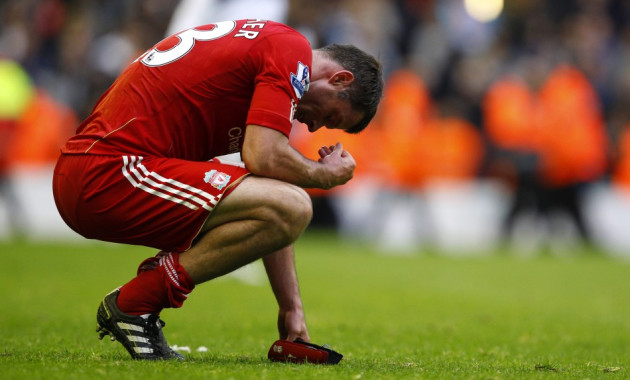 "It's about playing as many games as I can for Liverpool this season and see where we go from there."
Liverpool have so far made one big name signing in the summer transfer window, with Fabio Borini heading to Merseyside to assist with their lack of presence up front.
And as Rodgers moves to create another mini Barcelona at Liverpool, after showing through Swansea that attacking tactics can work no matter how much money is spent on a squad, Carragher believes that the club are going in the right direction.
"Players will need to adapt and quickly learn what's expected of them in a system which the Spanish have used to dominate world football," he explained.
"You can't say we're going to play like Spain or Barcelona. Number one, we haven't got the players. But there are times when a team comes along and it changes how people think about football.
"There's no point us saying we want to do exactly what they do, but we want to incorporate some of it with some of your own style. We'll be playing a similar system to Barcelona, that's true, but we don't have Xavi and Iniesta.
"There's nothing wrong with trying to incorporate what the best team do, but we have different ideas and we're in a different league.
"I think systems are important but it's still about players and them having the confidence and the belief to get on the ball and play. We tried 3-5-2 under Roy Evans and had some success with that. Now we'll be playing a system the club has probably never tried before.
"But good players should be able to understand it - it's about passing the ball, movement and different angles. That's what Liverpool have always done or tried to do."
For Liverpool, the challenge of getting back into the top four will be all the more difficult, with competition for a place in the Champions League rife.
Gone are the days when the big four merely swapped places each season in the Premier League, and big spenders Chelsea showed just how difficult maintaining top-four talent could be, finishing sixth last season behind surprise success outfit Newcastle.