Luis Suarez is set to be the subject of a fight between Liverpool, Roma and Juventus, if numerous news outlets are to be believed, with the striker's future looking uncertain this summer.
Suarez has been the subject of a great deal of controversy off the pitch in his first season with the Reds, with the racism row with Patrice Evra topping off a series of incidents including accusations of diving and abusing opposition fans.
While Liverpool have continually insisted that they want to keep their striker at Anfield, speculation has continued to surround the possibility of Suarez leaving the club if a better offer comes from a side where he can start with a clean slate.
Corriere dello Sport are reporting that Roma are in particular interested in making an offer for the star, after deciding against chasing Chelsea's misfiring hitman Fernando Torres.
But English outlet Talksport claims that Liverpool will fight hard to keep hold of Suarez, particularly after they stood by the Uruguay international through his nine match suspension for making an obscene gesture at Fulham fans and racially abusing Evra.
While Liverpool are underperforming in the Premier League, and are currently 16 points away from Champions League qualification, Suarez has insisted he is committed to the club and could spend the remainder of his career at Merseyside.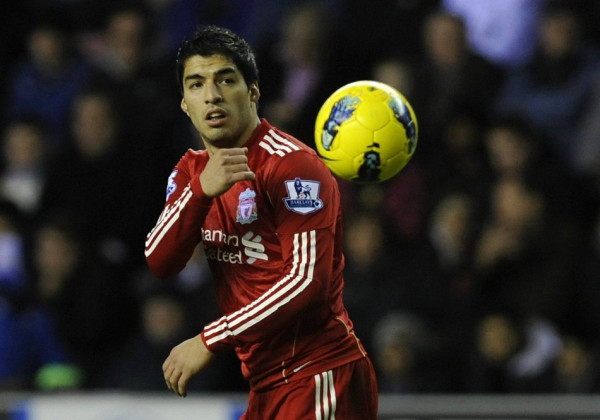 "It's encouraging for everybody," Dalglish told the Guardian after Suarez committed to the Reds.
"It might be bad news for other Premier League teams but it is encouraging for us. We've been delighted with him since he has been here.
"Luis has made a contribution every time he has stepped out on to the football pitch. He scores goals and creates goals. It's great news that he is happy. But we don't need to go through the full résumé of his season, we are delighted with his statement and the content of it."
Though Suarez has failed to set the Premier League on fire in the scoring stakes, it would appear that the 25 year old had to adjust to a new style of play, after initially being brought in to play behind Fernando Torres.
When Torres made the last-minute deadline day move to Chelsea, Suarez has become an integral part of Liverpool's front line.
But with the club currently struggling in that area, and Suarez holding a conversion rate under 10% so far this season, the former Ajax man could be tempted by a move to a country where his reputation isn't so negative and he can play in the position of a second striker.