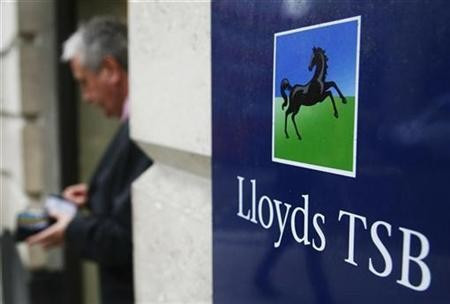 Lloyds Banking Group is edging towards full privatisation, after the government bailed out the lender in 2009 and left the taxpayer owning 40% of the bank.
At the Lloyds AGM, outgoing Chairman Sir Winfried Bischoff said the bank had made "significant progress" in 2012, noting that its share price was best performer on the FTSE 100 during the year - rising by 85%.
It has lifted a further 24% in 2013.
The Group is reforming itself to become a lower-risk bank with its retail arm ring-fenced from the commercial side of the business.
Lloyds is also building up its capital base to ensure it meets new regulatory standards.
"I have always said that this is a three to five year journey and now we are two years into that journey," said Lloyds chief executive Antonio Horta-Osorio in his speech to shareholders.
"I am pleased that I am able to tell you that despite the challenging economic environment we are ahead of our plan to transform the group."
Lloyds shares hit 60.26p on the London Stock Exchange during the AGM, below the 63.1p price paid by the government in its bailout.
The bank has been hit hard by the mis-selling scandal, forced to pay out billions of pounds in compensation to customers who had been wrongly sold derivatives products and payment protection insurance without the correct information.
So far, the scandal has cost Lloyds around £7bn.
Bischoff also told shareholders that the bank would be fully ring-fenced by the 2019 deadline set by regulators.
"This will undoubtedly be a step change for the UK banking industry that should reduce risk and make a clear distinction between commercial banks on the one hand and retail banks on the other," he said.
He added that once all the changes had been made, and the bank returns to profitability, shareholder dividends will be restarted.
"We fully understand the difficulties that their absence is causing shareholders," said Bischoff.
Related articles:
Mis-Selling PPI: Lloyds' Customer Complaints Surge 274%
Mis-Selling PPI: FSA Fines Lloyds Units £4.3m for Redress Failures
Lloyds Earnings Hammered by £1 billion PPI Charge
Sir Winfried Bischoff Profile: Lloyds Chairman To Retire