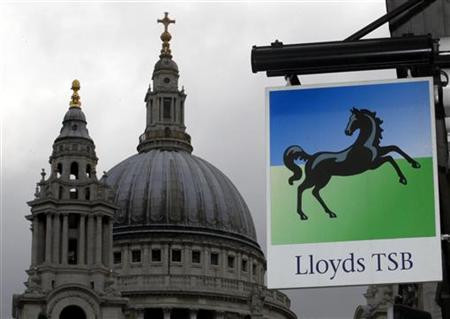 Two of Britain's biggest High Street names have posted worrying financial reports.
Lloyds Banking Group and Marks & Spencer have both taken hits over the past year.
Taxpayer-owned Lloyds Banking Group reports a £3.85bn loss for the first 9 months of 2011.
British taxpayers own 41% of the group.
Lloyds points to £3.2bn of its losses being down to paying compensation to customers mis-sold PPI (Payment Protection Insurance).
PPI was sold to customers as a way of protecting them if they were ever unable to meet loan repayments through accident, illness or loss of work.
Many customers were mis-sold it as they would never be able to claim, while others were pressured into buying it alongside credit cards.
The High Court ruled in April that banks must repay all customer deemed to have been mis-sold PPI.
Even accounting for the dent PPI compensation makes, Lloyds made a loss on top of £600million, showing a general downturn in business.
"Although the UK economic environment has weakened in the third quarter, the flexibility in our strategic plan has allowed us to further improve our customer propositions, continue the reduction in our risk profile, strengthen our balance sheet and reduce costs," said Tim Tookey, Interim Group Chief Executive and Group Finance Director.
"Over time, we believe our strategy will realise the full potential of our organisation for customers and shareholders."
Tookey is standing in for Lloyds' boss Antonio Horta-Osorio, who went on long-term sick leave for exhaustion after just eight months in the job.
Marks & Spencer reports a drop in pre-tax profit of 10% for the first half of 2011 compared with 2010, from £348.6million to £320.5million.
The company also notes that its operating costs are due to rise by around 3% over the next year, coupled with a further 12% of additional costs from opening new buildings in the UK and across the world.
It's not all bad news though, as sales have actually increased 2.4% top £4.7bn.
They also say that the second half of the year has started "in line with our expectations".
"Marks & Spencer performed well in the first half. Sales were ahead of last year despite tough comparatives and a challenging economic environment," said Marc Bolland, Chief Executive.
"In an increasingly promotional environment, we managed costs tightly and took a decision to invest in giving our customers better value, choosing not to pass on the full extent of the increases in commodity prices.
"Against a challenging consumer backdrop, we took decisive action to manage the business through the short term while continuing our focus on investing in creating a stronger platform for future growth."