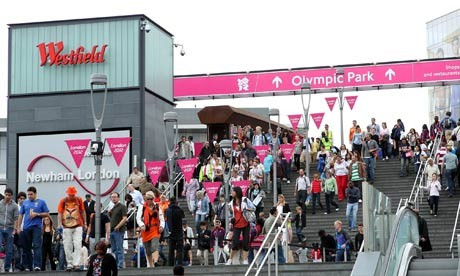 Westfied Stratford City will shut its doors to non-Olympic visitors on 3 and 4 August, it has been announced.
London's busiest shopping centre, which is being used by many Games spectators as a shortcut to the Olympic Park, has decided to limit access in anticipation of huge crowds over the middle weekend of London 2012.
Olympic officials are expecting over 200,000 spectators, officials, athletes and journalists to pass through Westfield on each of the two days.
"To assist with the smooth running of the Games, Westfield is working with the Games organisers to allow access to accredited personnel, hospitality visitors and Games ticket holders only, between the hours of 10.30am and 5.00 pm on these two busy days," a statement from Olympic organiser Locog said.
"Outside these hours, Westfield Stratford City's shops will be open to all visitors until 11.00pm, and restaurants and leisure until at 12:30am. Extended trading hours will resume on 5 August."
This is not the first time the centre's opening hours have been affected by the games. On 27 July, with more than 100,000 people descending on Straford for the opening ceremony, Westfield shut its doors at 3pm.