The lost remains of a martyred Georgian queen have been discovered in a church in India 400 years after her death.
Queen Ketevan was the Queen of Kakheti, a kingdom in Georgia, during the 1600s. However, the city was attacked and her husband was killed.
The Persian ruler Shah Abbas seized the kingdom and took Ketevan as a prisoner. She was held in Shiraz in Iran for 10 years.
However, Shah Abbas asked her to convert from Christianity to Islam in 1624 and join his harem. She refused and instead was tortured to death with red hot pincers.
Ketevan was canonized as a saint by the Georgian Orthodox Church. According to Live Science, before her death Ketevan had befriended two friars who secretly dug up her remains after her death and smuggled them out of Iran.
Her remains were split up, with some taken to the Alaverdi Monastery and the rest buried at the St Augustine Church in Goa, India.
Despite this account, expeditions to the site in search of the remains proved unsuccessful, until recently when a group of researchers led by Niraj Rai, a researcher at the Centre for Cellular and Molecular Biology in Hyderabad in India.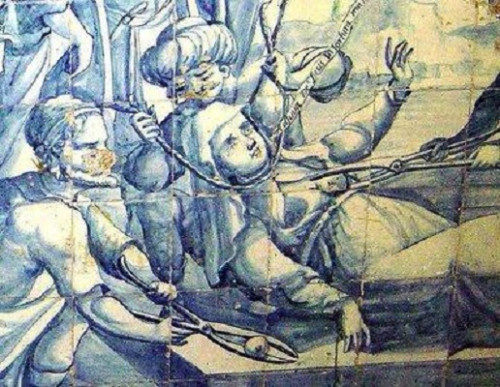 The church had not fared well over the centuries and early attempts to find her bones failed.
However, the team eventually came across an area containing a broken arm and two other bone fragments. DNA from the bones show they belong to a female with a genetic lineage known as U1b.
A survey of 22,000 people from Goa showed no one with the U1b lineage. However, it was a common trait in a sample of 30 people from Georgia.
"The complete absence of haplogroup U1b in the Indian subcontinent and its presence in high-to-moderate frequency in the Georgia and adjoining regions, provide the first genetic evidence for the [arm bone] sample being a relic of Saint Queen Ketevan of Georgia," Rai told LiveScience.
While the lineage provides a good indication that the bones are that of Ketevan, they are not strong enough to prove they belong to the martyred queen.
Jean-Jacques Cassiman, a geneticist commenting on the study, said: "It is a bone presumed to be of the queen and will remain so until its DNA can be compared to that of preferably living relatives and if not available dead relatives."