Louis Vuitton Spins Magnificent Carousel Collection (Video)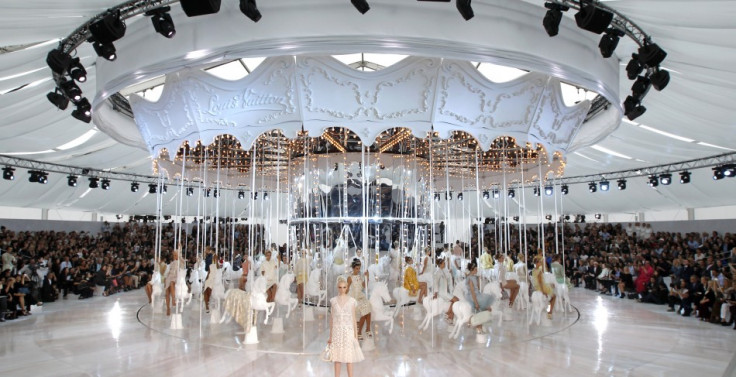 Louis Vuitton has unveiled its new Spring/Summer 2012 collection. This was a refreshing change from the previous dark fall collection which was dominated by kinky boots, handcuffs and night porter caps.
The set was a stunning, all white merry-go-round. The models sat upon it all dressed upon in sugary colors. They got down from their horses one by one and strutted their stuff on the circular runway. Kate Moss was the surprise element of the show. Moss, who never considers getting off her bed for any designer these days decided to be a part of the Louis Vuitton show.
Apparently she had asked Marc Jacobs to be a part of the show. Jacobs, the ring master of Louis Vuitton said, "Well, you know, Kate is such a dear friend. And she asked to do the show. So why not?" The collection was inspired by the 1950s and 1960s which reflected in the hairdos, dresses and the floral appliques.
Whites and silver were the signature colors but these were injected with candy floss pinks and butter yellows.The stunning designs, featuring laser-cuts and chiffon overlaying, were more couture than ready-to-wear.
Louis Vuitton's signature bags completed the collection with pale pastel leathers and big daisy appliques.
"The workmanship on our new basket weave bags is insane," said Jacobs. "It took six hours just to line up the skins on one coat."
Check out the video of the magical collection.
© Copyright IBTimes 2023. All rights reserved.