Ex-Liverpool midfielder Danny Murphy says Luis Suarez's 10-match ban for biting Branislav Ivanovic was too severe and that a substantial fine for the offence would be a greater safeguard against future incidents.
The ban is the second time Suarez has been punished for biting, the first occasion coming during his spell at Ajax, where he was banned for seven games after an incident with PSV Eindhoven's Otman Bakkal in November 2010.
Suarez will miss the rest of the season as well as the first six games of next season while he'll undergo therapy to assist in his mental well-being, but Murphy who played for Liverpool between 1997-2004, is insistent that a heavy fine would have been a greater prevalent against a repeat offence.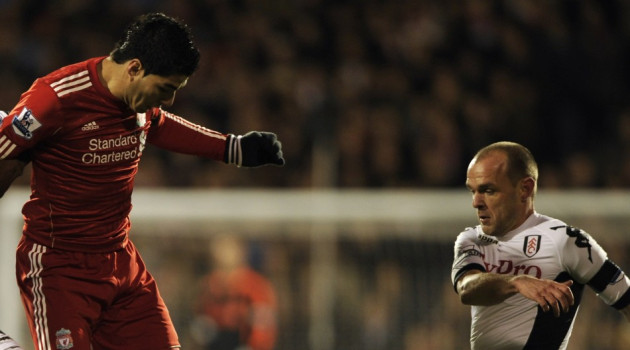 "It's unacceptable what he did but, for me, the ten games is a bit harsh," Murphy said.
"I was talking to a mate of mine who doesn't earn too much money doing what he does and spends every penny on his season ticket and they [the supporters] are the ones that suffer really.
"I still find it difficult to comprehend why there are restrictions on being able to fine players. Give them bigger fines because, when I've been around players who have done things that are wrong the past, it hurts the most when they get hit in the pocket.
"If you can fine players five, six weeks wages, I'm telling you that is going to make a difference. Of course he should have been banned, there's no way you can argue that, but ten games for me is harsh. That is punishing a lot of other people involved, those fans that pay a lot of money to go and watch."
Both Pepe Reina and manager Brendan Rodgers have spoken of their disappointment with the length of the ban, despite Liverpool quickly condemning their top scorer on Sunday, and imposing a fine on the Uruguayan.
Liverpool managing director Ian Ayre said he was surprised by the ruling that the club have until midday on Friday to appeal against.
Should they appeal the ban, Suarez will be available to face Newcastle United this weekend, but the Reds could risk the punishment being increased should their plea be deemed 'frivolous'.