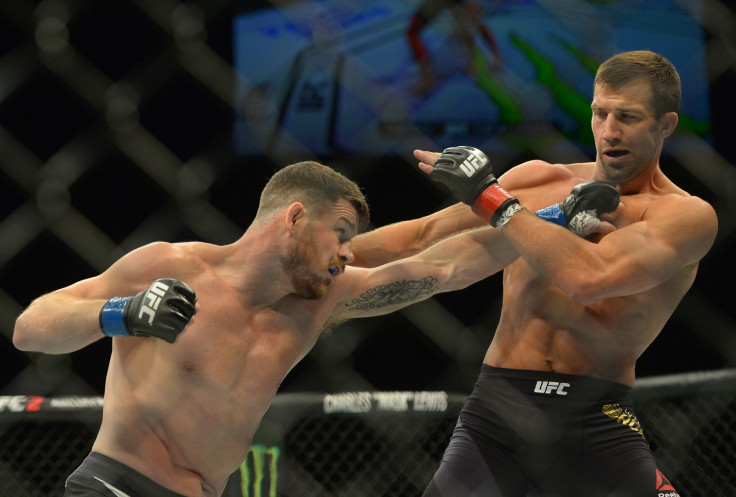 Luke Rockhold still harbours resentment towards long-time rival Michael Bisping.
It was Bisping who infamously knocked out Rockhold to win the middleweight title at UFC 199 in June 2016 in what many would call one of the greatest upsets in MMA history as the Briton had fought on only two weeks notice.
Since then, Bisping has defended his title against Dan Henderson at UFC 204 in October 2016 and will be defending it for a second time against the returning Georges St-Pierre at UFC 217 on 4 November.
Meanwhile, Rockhold endured a long layoff, having only recently returned to action after 15 months with his win over David Branch at UFC Pittsburgh last Saturday (16 September).
Four days on from his return, the former middleweight champion spoke about Bisping's title reign which has long been criticised by many in the combat world.
Bisping's second title defence will come 13 months after his last one as he pined for a super fight rather than defend his championship against the top contenders in the division.
"I think it's the worst in UFC history," Rockhold said on UFC Tonight. "No one has ever gotten that treatment, no one has avoided all the top contenders."
"He was supposed to fight Jacare, he avoided that, he was supposed to fight Yoel [Romero], he avoided that, and somehow he's getting away from this fight with Whittaker. He found Dan Henderson, the No. 14th ranked at the time, and now he's going for GSP. He hasn't done anything."
While Rockhold is ready to step in for St-Pierre if he is unable to make the fight at Madison Square Garden, he revealed what his other options would be in terms of a potential opponent.
"That would be Robert Whittaker, that would be the real champion, that's the man who is fighting all the guys," Rockhold added. "We'll see what his timetable is of course, obviously a third option is Yoel Romero."
The American Kickboxing Academy fighter is also not surprised with Bisping's recent quotes that he could retire after the "GSP" fight.
"I'm going to put myself in position," he explained. "He's going to have a choice. Either he stands and fights like a man, or he runs. And we all know what he's doing. He's ran from the start and it looks like he's going to run to the finish."
Bisping, who is a regular on UFC Tonight, has since responded to Rockhold's comments: "It's a good job that he looks good cause he obviously can't add up because 15 months — I fought less than a year ago, he hasn't fought since I knocked him out in three minutes. Yes, three minutes, out cold."
"Then he comes back, he fights who was it? David Branch. Never heard of him. You should go and rematch Chris Weidman. A couple of bums so you can try and claw your way back to the top. I even sound like Weidman now, I sound like Rockhold, I can't get my words out cause he's so dumb, so stupid," Bisping said.