So it's true what they say.
Beautiful women really do have it hard. Movie star looks, the attentions of adoring men and a leg up on the career ladder for looking good in Gucci, just don't make up for all the times that an exceptionally attractive woman must incur the envy of her female peers; those perhaps less aesthetically fortunate women, who find it easier to cope with their own insecurities, by suggesting that those blessed with good looks are automatically predisposed to being either stupid or incompetent.
Just ask Amy Willerton.
The beauty queen has found herself on the receiving end of her female camp mates' sniping, on the ITV reality show I'm a Celebrity, as they appear to question the 21-year-old's ability to do ... well, anything.
EastEnders actress Laila Morse felt the need to take over when Willerton offered to dry the dishes after a camp supper, apparently irritated at how slowly the Bristol born beauty was doing her chores.
Lucy Pargeter was first ruffled when Willerton chose to sun-bathe rather than help get logs for the camp fire and later the Emmerdale star joined Olympian Rebecca Adlington in berating Willerton for holding on to contraband concealer and in doing so putting the rest of the camp at risk of losing meals.
"That's made me so angry," said Pargeter. "We're in it together."
Former TV host and model Annabel Giles didn't miss the opportunity to wade into the Willerton-bashing arena. "It says a lot about that person. That they have no conscience and they're punishment should be that they have to live with themselves."
Willerton had confided in Alfonso Ribeiro that former model Annabel "hates" her. "The women talk to me differently than how they talk to each other," she said with a disarming naïveté.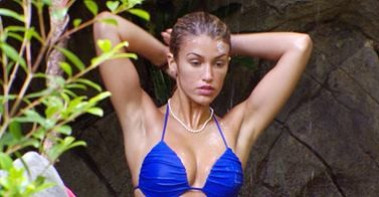 Seemingly the most catty person in camp, broadcaster Matthew Wright, couldn't resist having a pop at Willerton for her inability to cook crab saying: "Hopefully there'll be something simpler tomorrow and Amy can get stuck in and I think she wants to get stuck in and show she can do something other than just sunbathe."
Wright might do well to recall that it was he who cried like a baby when first faced with a trial, while Willerton brushed the bugs out of her bra and got on with it.
And when gold medal winning Olympian Adlington, found herself lacking when measuring herself up against the recently crowned Miss Universe, it sparked a debate in the House of Commons about body image, as the nation asked, who is the better role model for the youth?
Invariably Olympic success would win over beauty you were merely born with. And yet Willerton has proved her worth in the trials, showing no less determination than the Olympian to bring back the stars for camp.
While her tendency to strip down to her underwear at the first sign of sun doesn't help Willerton's cause, truth is, with a near perfect figure like that, why wouldn't she?
But it took the men in camp to notice the catty comments directed squarely at the blonde beauty.
US comedy actor Alfonso Ribeiro, Strictly Come Dancing star Vincent Simone and designer David Emanuel convened to discuss the ill-treatment of Willerton at the hands of her female foes, and nominated camp charmer Vincent Simone to offer up a shoulder to cry on.
"We're going to be there for you," said Simone. "I've seen the way they treat you. It's very unfair."
Basking in the afterglow of Simone's support Willerton said: "It's just really nice to hear that I wasn't being paranoid and other people were seeing it and they were saying we're here in your corner."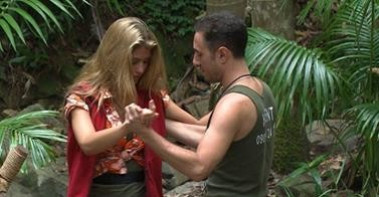 For royal designer David Emanuel it was the kind of behaviour he is accustomed to seeing, having dressed some of the world's most beautiful and hence most envied women.
"All the beautiful women I have dressed in the world, they are regularly surrounded by jealousy and cattiness. Sometimes beautiful women have to prove themselves more," he explained.
Willerton may feel she has something to prove, but at the age of 21 she has already amassed some personal milestones.
Described on her website as a British model, TV personality and presenter, she's already had a taste of reality TV, abandoning plans to go to university to study media when she was spotted by Katie Price's management and went on to win reality TV show 'Signed by Katie Price'.
In a dramatic turn of events, she turned down the winning contract with ex-I'm A Celebrity star Pricey, stating that she wanted to take her career in a different direction.
After being crowned Miss Universe GB, she was selected as an official presenter for the worlds fourth most watched channel - Fashion TV - viewed by 350 million households .
And she is known to champion anti-bullying and female empowerment initiatives, perhaps because she knows something about what it feels like to be bullied for your looks.
Is the show just a short cut to success for the aspiring TV presenter? Is Willerton cashing in her good looks in a world where being famous is a substitute for having any discernible talent?
And what of the sisterhood?
Maybe it's the other women in the camp who are in fact guilty of making judgements about Amy based solely on her looks and without really giving her chance.
And maybe the public have noticed that too. Willerton was voted as the third camp saviour to join Kian and Joey Essex.
It's every beautiful woman for herself, in life and in the jungle.
Watch I'm a Celebrity on ITV 1 at 9pm.