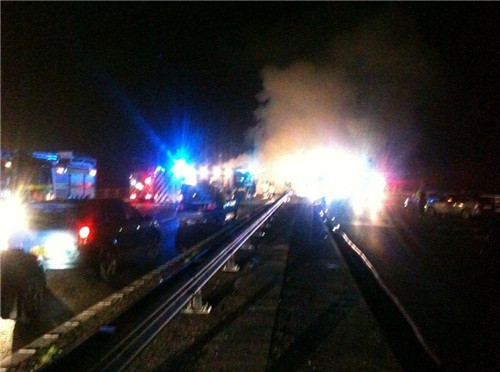 Names of some of the seven people killed in the huge M5 traffic accident near Taunton on Nov. 4 are starting to emerge.
They are retired couple Anthony and Pamela Adams from Newport in South Wales, father and daughter Michael and Maggie Barton from Windsor in Berkshire, and father-of-five Terry Brice.
Police are not currently confirming the identities of any of the victims.
The 34-car crash took place at 20:30, leaving 51 injured - some seriously - as well as seven people dead.
Those hurt were taken to nearby hospitals in Taunton and Yeovil.
Emma Barton, 19, whose father and sister died in the pile-up, remains in a medically-induced coma.
Witnesses near the scene described massive fireballs and explosions.
"Our main line of inquiry has now moved towards the event that was on the side of the carriageway and we do believe that while there was fog and it was difficult conditions in the area, that actually from witness evidence there was very significant smoke across the carriageway," said a statement from Assistant Chief Constable Anthony Bangham of Avon and Somerset police, who are investigating what led to the series of collisions.
"That in effect caused a bank similar to a fog bank, which was very distracting and very difficult to drive through. We will be doing everything we can to find out as quickly as we're able to what's behind that."
The nearby event was a fireworks display at Taunton Rugby Club. In a statement, the club said it is "working closely with Avon and Somerset police to assist with their investigations".
"It was like someone turned out the lights. I have never seen anything like it," witness Matt Cracker told the Guardian.
"It was like a wall of pitch black fog. In my mind, it was either a total freak-of-nature weather condition, or it had to have been that there was some sort of smoke mixed with it.
"There was one car in front of us. Then all of sudden - bam - it was black.
"The car disappeared. I said to Michelle: 'It's like that car has vanished, how weird.' We might as well have been blindfolded. Next thing we knew we were smashed into the back of it."
Much of the road remained closed for the whole of the weekend, before eventually re-opening on late Nov. 7 after the destroyed vehicles and debris were cleared.