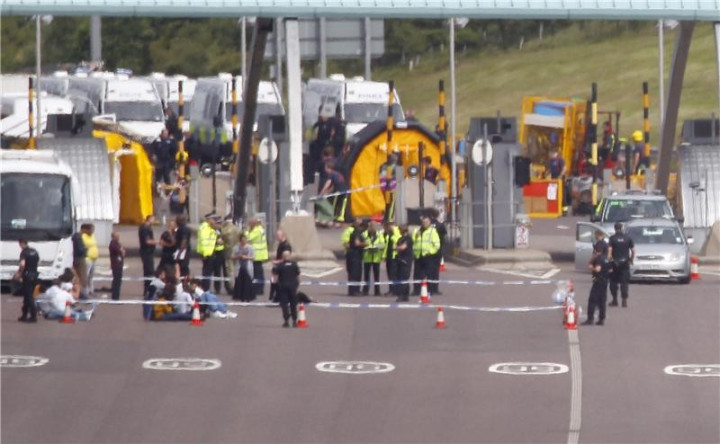 Nearly 50 passengers were evacuated from a Megabus inter-city coach after reports that a male passenger was seen pouring liquid into a smoking bag or box on board.
Armed police surrounded the coach and evacuated the 48 passengers after it stopped between junctions T3 and T4 at Weeford Park Plaza near Lichfield, Staffordshire.
It is thought that the driver alerted police. West Midlands officers said the coach was on the hard shoulder of the road.
Passengers were led off the bus and forced to sit in a cordoned-off area of the carriageway.
Eyewitness Nick Jones told BBC News that police warned him to stay in his car, keep his windows closed and not to use the air-conditioning.
"I was beginning to feel a little uneasy.I was beginning to look around for an escape route," he said.
More than 10 fire engines plus several police and emergency vehicles were visible at the scene.
Staffordshire Police confirmed the incident was not terror-related. They also say there was no chemical spillage and have made no arrests.
The Megabus was travelling from Preston to London.
A spokeswoman for the bus firm, which is operated by Stagecoach, said: "We are assisting police with their inquiries into an allegation made against a passenger who was travelling on board one of our services."
The Highways Agency confirmed that the motorway had been closed in both directions following a "police-led" incident.
Diversions are in place and traffic was being turned around, police said.
It is not thought the incident was a chemical spill or connected to the six arrests in London as part of a pre-planned counter terrorism unit.