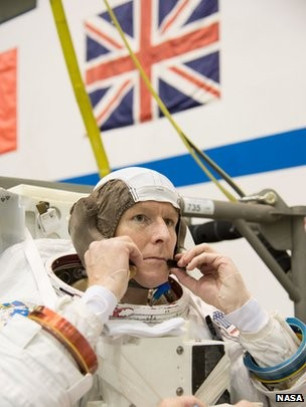 A former army helicopter pilot will become the first Briton to live and work in space after being selected to go on a mission with the European Space Agency.
Major Tim Peake said it was a "great privilege" to be selected for the mission to the International Space Station, which will take place in or soon after 2015.
A former pilot in the British Army Air Corps, Peake has been in training for an expedition to the ISS since 2009.
Peake, 41, had an 18-year career in the British Army, serving in Bosnia, Northern Ireland and Afghanistan, before beating more than 8,000 other hopefuls to be accepted into the ESA in 2009.
Peake, from Chichester, Sussex, has been informed of the date of his mission. The agency said it will release further details on Monday 20 May.
He will depart in a Soyuz rocket from Baikonur in Kazakhstan. His tasks in orbit will include maintaining the 27,000kph platform and conducting experiments at the ESA's Columbus laboratory module, which forms part of the 400-tonne complex.
His mission will make him the first UK national to live and work in space, where he will fly the Union Flag, on a programme funded by the British government, the ESA's third-largest contributor.
He is the only Briton so far to have been accepted into the European Astronaut Corps. Helen Sharman was the first Briton to go into space, when she spent a week at the Mir space station on a Soviet project supported by British businesses in 1991.
The UK's burgeoning space industry is worth an estimated £9 billion annually, with the figure set to rise.