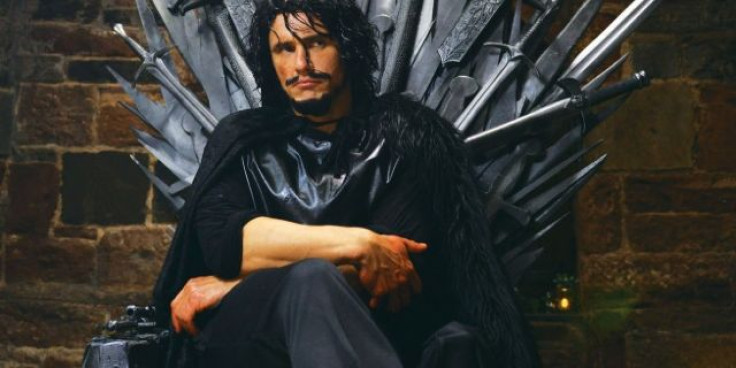 Actor James Franco believes that people like him more in comedies and that is what he will focus on, going forward. The actor is coming out with the second season of the AOL web series - Making A Scene - which will feature him in a Game Of Thrones spoof.
"Game of Thrones got mashed up with a sitcom, so it kind of became this Thrones-meets-Modern Family situation where I talk to the camera as Jon Snow, doing very un-Jon Snow-like things. That's probably the weirdest one, but also the best," Franco told TVLine about his upcoming spoof.
"People like it when I do comedies," the actor said in another interview with Entertainment Weekly. According to Franco, season 2's "most involved" scene though was one that remakes Game Of Thrones as a mockumentary-style sitcom. "There's even a direwolf costume," he said. "And then on top of that, there was a ton of fake blood that we were literally just throwing around with buckets."
The prolific actor, who was part of the 2013 controversial comedy This Is The End, reenacted some iconic movies (Dirty Dancing, Reservoir Dogs) mashed up together, in season 1 of Making A Scene. However, with the new season, the team has decided to shift focus to TV shows. "TV's so big right now, and we're in this new golden age of TV that it would be good to change it up," Franco said while explaining why he chose material from the small screen over films.
He also told TVLine, "We really just wanted to shake things up. Instead of doing more top-20 or top-40 favorite movie scenes, why not go into television? It seems like so many people are watching television now. We could stick with the same concept from Season 1, but have fresh material." New episodes of Making A Scene are available to watch on AOL Wednesdays at 12am ET.