A British tech genius who used to work with Steve Jobs at Pixar animation studios is the unlikely expert authorities have turned to as they frantically try to establish the location of missing Flight MH370 using the most cutting-edge technology available.
Simon Bax, 53, is an Independent Non-Executive Director at Inmarsat, which is helping establish the precise route taken by the 777-200ER once it diverted from its scheduled route between Kuala Lumpur and Beijing on 8 March and all communications aboard the plane were intentionally switched off.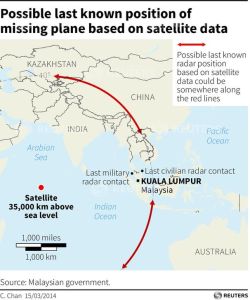 Established in 1979, Inmarsat was set up by the International Maritime Organisation to enable ships to keep in touch with one another and shore in case they needed to summon help in an emergency. The British company, which was privatised in 1999, has a network of 10 satellites continually orbiting the Earth, each of which is contactable by antennae and satellite phones aboard ships.
A company spokesman explained that Flight MH370 sent routine, automated signals as it flew to its destination and these were picked up by Inmarsat: "Since being advised that the plane was missing we have afforded urgent priority to the provision of data to those participating in the search and rescue activities."
Flight MH370: Glossary of tech terms

Since Flight MH370 vanished with 239 passengers and crew aboard, the internet and media have been awash with confusing technical terms. Here IBTimes UK provides a handy glossary of the most-used words.
Pings: routine electronic signals from the plane, also known as electronic handshakes, which can be picked up by satellites.
ACARS: acronym for "aircraft and communications addressing and reporting system", a system that enables the plane to communicate with the ground.
Transponder: the device which enables pilots to speak with civilian air traffic control.
Squawks: four-digit codes inputted by pilots into the transponder which identify planes to air traffic control.
FLIGHT MH370 FACTBOX
Flight MH370 took off from Kuala Lumpur International Airport en route to Beijing at 00:41 on Saturday 8 March (16:41 GMT Friday).
About 50 minutes later, the aircraft lost contact with air traffic control.
No distress call was made.
On board, there were 12 Malaysian crew members and 227 passengers from 14 countries. That included 153 Chinese and 38 Malaysians.
Two Iranian male passengers, Pouria Nour Mohammad Mahread and Delavar Syed Mohammad Reza, were travelling on fake passports. Neither had any apparent links to terrorist groups.
No debris from the plane has been found in the international search.
At least 10 countries, including China, the US and Singapore, were using a total of 42 ships and 39 aircraft to search for the missing plane in the South China Sea, the Malacca Strait and the Andaman Sea.