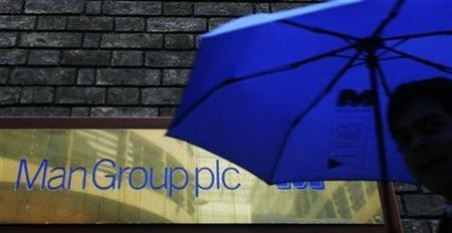 Man Group shares fell more than 7 percent in early London trading Thursday after it revealed clients pulled billions of dollars from the the listed hedge fund for the fifth consecutive quarter.
The stock fell to 86.19p as of 1051 GMT. It has already fallen by over 70 percent so far this year, sheeding more than $6.2bn in market value from the world's biggest publicly traded hedge fund.
Investors have been pulling out billions of dollars worth of cash from Man Group for over the last year after the firm posted poor returns on its main fund in 2011.
Net outflows reached $2.2bn over the three months to September, up from $1.4bn the previous quarter.
"The flow environment continues to be challenging," CEO Peter Clarke said in a statement. "Investor sentiment, and consequently the outlook for flows, continues to be subdued."
The mass client outflows started when Man Group revealed that its AHL fund, which accounts for around 70 percent of the group's earnings, lost 6.4 percent last year. However, this year it is down 0.6 percent.
The firm has struggled since the onset of the credit crisis in August 2007 and has continually sold off assets and cut costs to stay afloat. In July this year, the group announced it was planning to implement a reduction in expenses by $100mn over the next 18 months and would rely less on products that are expensive to sell.
The cut back on "expensive products" include 'guarantee products', which require the group to pay high fees to private banks.
However, while clients are seen to withdraw cash from Man Group following the firm's main fund's poor performance, the action is indicative of the wider industry.
Hedge fund administrator SS&C GlobeOp, an industry benchmark, says clients are increasingly demanding to pull their money from hedge funds because of lacklustre performances.
SS&C GlobeOp data, which covers around $187bn of hedge fund assets under administration (AuM) worth around 8 percent to 10 percent of the global industry, calculates a monthly update on investors seeking to withdraw money that's based on a percentage of total AuM.
This figure, known as the 'forward redemption indicator', hit a year-to-date high of 3.76 percent last month, up from up from 3.34 percent in August and from 3.11 percent last year.