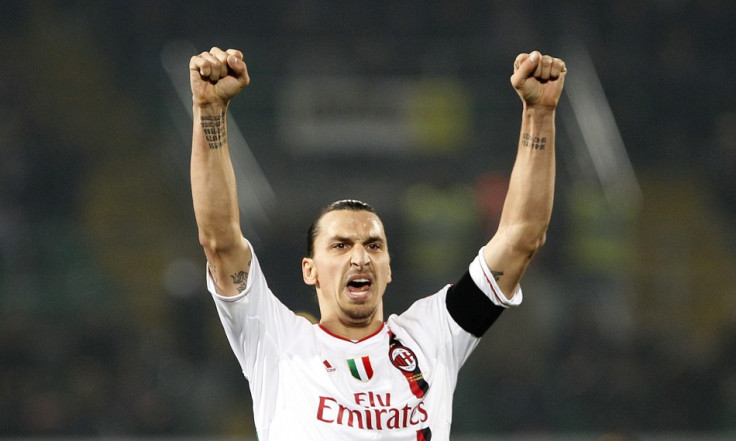 According to a report in The Sun, newly crowned Premier League champions Manchester City are eyeing Italian club AC Milan's Swedish striker Zlatan Ibrahimovic, who is reportedly valued at £25mn. In addition, the report suggests City boss Roberto Mancini is willing to pay up to £300,000 per week, which will make the well-travelled Ibrahimovic the highest paid player in the league; City's Ivorian international midfielder Yaya Toure reportedly earns £250,000.
Ibrahimovic, who has 29 goals in 75 games for the Swedish national team, started his professional career at Malmo FF in Sweden in 1996. He moved to Dutch champions Ajax five years later, where he began establishing his reputation as a strong attacker. Since then the somewhat controversial Swede has played for Juventus, Inter Milan and Barcelona and boasts an enviable record of having won league titles, regardless of which club he was playing for, every year from 2003/04 to 2010/11; this includes the two Serie A titles between 2004 and 2006, with Juventus, which were revoked due to the Calcipoli scandal.
Mancini seems keen to bolster his forward line with more options, despite already boasting the likes of Sergio Agüero, Carlos Tevez, Edin Dzeko and Mario Balotelli. However, the disciplinary problems that have characterised Tevez and Balotelli's career to date suggest replacements may be needed for at least one of them and an earlier IBTimes UK report suggested Argentinean forward Tevez may be the one to go.
Meanwhile, a report in the Daily Mail states City are also going to move for Spanish club Athletic Bilbao's striker Fernando Llorente and are ready to pay the £29mn release clause in the player's contract. The Daily Mail also suggests reports in Spanish newspapers have linked Llorente's brother and agent, Chus, with talks with City representative on 27 April. However, if Mancini does want the Basque forward, he may have to move fast. An earlier IBTimes UK report said a number of other English clubs, including Tottenham and City's rivals Manchester United were also eyeing the player.
There is, however, another interesting possibility. A report in the Telegraph suggests a swap deal involving Ibrahimovic and Balotelli. Mancini has been quoted in the past as being frustrated with the Italian striker's behavioural problems and a deal that sees the two former Inter Milan strikers switch clubs could be a good one. However, given the Swede's own disciplinary problems, Mancini may think twice about the deal.
In any case, Mancini's priority seems clear. Argentine international Sergio Agüero is his first-choice striker (and deservedly so). Tevez, Dzeko and Balotelli have all impressed, to varying degrees, through the season but have each displayed either a lack of consistency or maturity to be considered regular starters. It is likely, therefore that at least two of those three will leave the Etihad in the summer, with the Bosnian striker also being linked to the exit door.