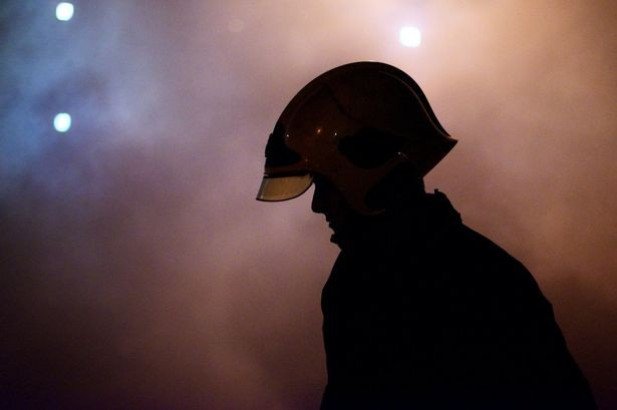 Two girls aged 15 have been arrested on suspicion of manslaughter after a firefighter died tackling a blaze at a shop in central Manchester.
Detective Superintendent Phil Owen said: "We are working with our colleagues from the fire service to establish how this fire, which has tragically claimed the life of a fire fighter, started.
"We have already arrested two juveniles in connection with the fire and our enquiries are continuing. If anyone has any information about how the fire started please get in touch."
Stephen Hunt, 38, was among 60 firefighters called to the fire at Paul's Hair World when he and his colleague ran into trouble in the basement of the burning building, which was used to store hair products.
Both were taken to hospital after being pulled from the blaze at the shop in Oldham Street.
Hunt, a father-of-two, based at Manchester's Philips Park Fire Station, was later confirmed dead, Greater Manchester Fire and Rescue Service said.
The second firefighter continues to receive treatment. His injuries are not thought to be life threatening.
Firefighters battled on a further 12 hours through the night, finally putting out the blaze by 9am on Friday morning.
County Fire Officer Steve McGuirk said: "We are devastated by the loss of one of our colleagues who has died in the line of duty.
"Stephen had been a dedicated firefighter since 2008 and we are all in a state of shock.
"It is a very sad day for Greater Manchester Fire and Rescue Service and all our thoughts are with Stephen's family and friends."
He said details of what happened were unclear but would be investigated.
"We have asked our neighbouring Fire and Rescue Services to immediately start an investigation into the incident and circumstances leading to this terrible tragedy," he added.
"We are working alongside Greater Manchester Police to establish the cause of the fire. At this stage arson is not being ruled out."
McGuirk paid tribute to the "professionalism, courage and dedication" of the team of firefighters, who had continued to battle the blaze while mourning their colleague's death.
The fire broke out in the shop's underground storeroom at about 2.50pm GMT and was not extinguished until Sunday morning.
The shop's owner and a passer-by were both taken to hospital, suffering smoke inhalation.
The blaze had proved difficult to tackle due to the complex layout of the building and the amount of inflammable materials inside, a spokeswoman for the fire service said.
By 4pm on Saturday, 12 crews and more than 60 firefighters from stations around the county were tackling the fire after it spread to the first floor.
The Merseyside and Lancashire fire services are expected to lead an investigation into the circumstances surrounding Hunt's death.
Matt Wrack, general secretary of the Fire Brigades Union, said: "There is a great feeling of solidarity amongst firefighters as a result of the job that they do and the risks that they face and this will be keenly felt by firefighters across the UK and indeed internationally."
Vij Randeniya, president of the Chief Fire Officers Association, said: "We are all devastated by the news.
"We offer our sincere condolences to Stephen's family, friends and colleagues at this very sad time."